The Southern Cross has become a biennial event on our calendar. Checking in at Cape Reinga (Far North), Cape Egmont (Taranaki), East Cape, and Bluff (Deep South) within the week, we normally cover about 5500kms from home to home. The scheduling of this year's trip couldn't have been better for me as I already had to be in Hamilton for a work event at the end of the week prior. For Andrew, having just shattered his elbow in an unfortunate event involving stubbing a toe walking across a car park 8 weeks previously, it was his first time back on the bike. So what better way to test the newly healed arm, than in a non stop leg from Christchurch to Hamilton – 960km + 4hour ferry ?
Whilst idly kicking my bike at the trade show, I realised my tyres were far more worn that they should have been for the up coming trip. A quick call into Hamilton Motorcycle Centre on Te Rapa road for excellent service and a good price on an Avon Storm front tyre, I caught sight of this poster – a good mindset to start the trip: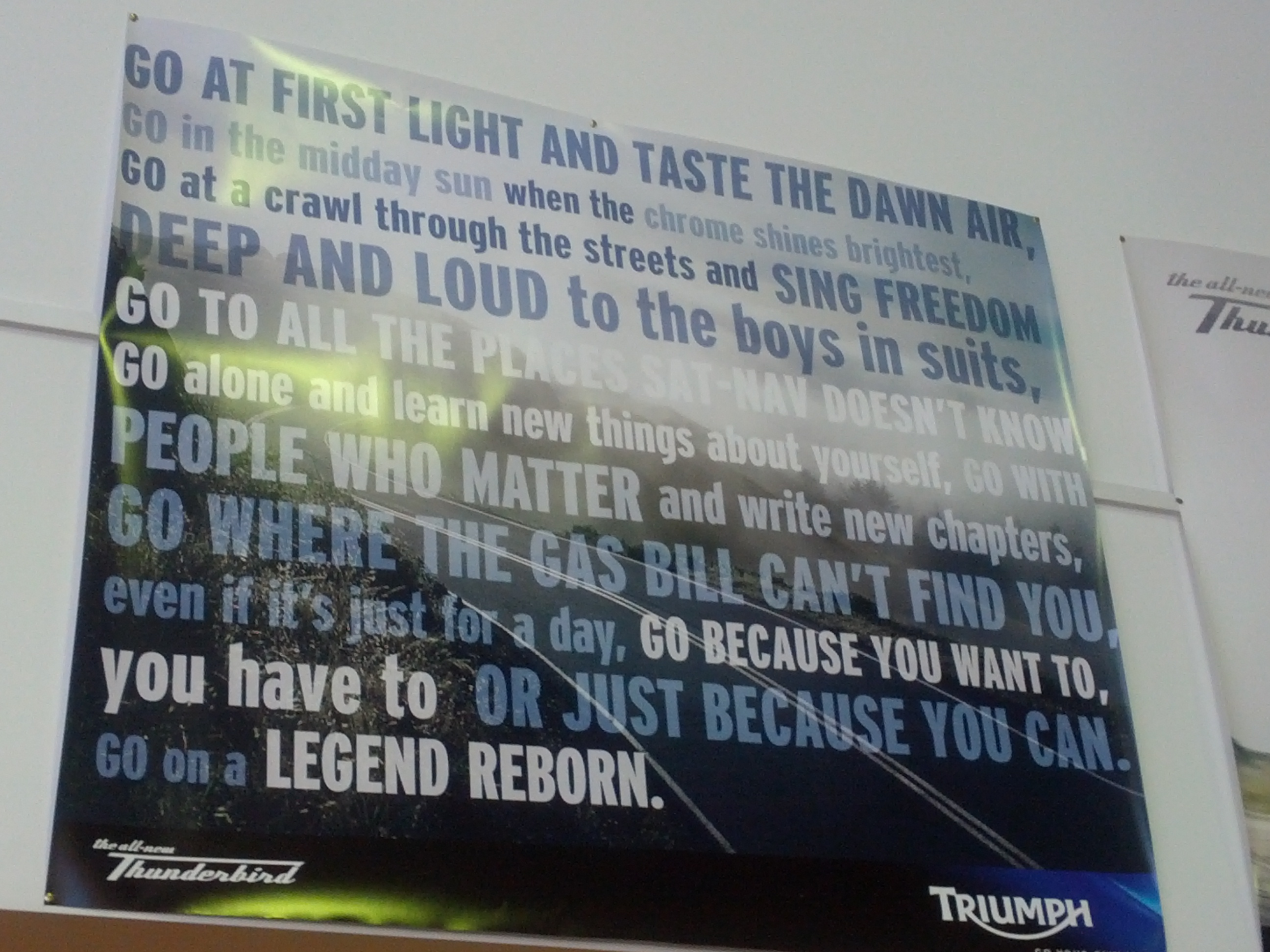 Sorry about the quality – it was quite high up, and I'm pretty short…
So with new shoes on the bike and Andrew's arm seemingly OK, we headed north for the start of the trip. We had a plan to stay at Mangawhai heads on Sat pm but a stray wasp sting put paid to that idea. Damn that allergy to stings… So an unusual night spent in Wellsford sleeping that off, and a brilliant breakfast in Mangawhai heads instead: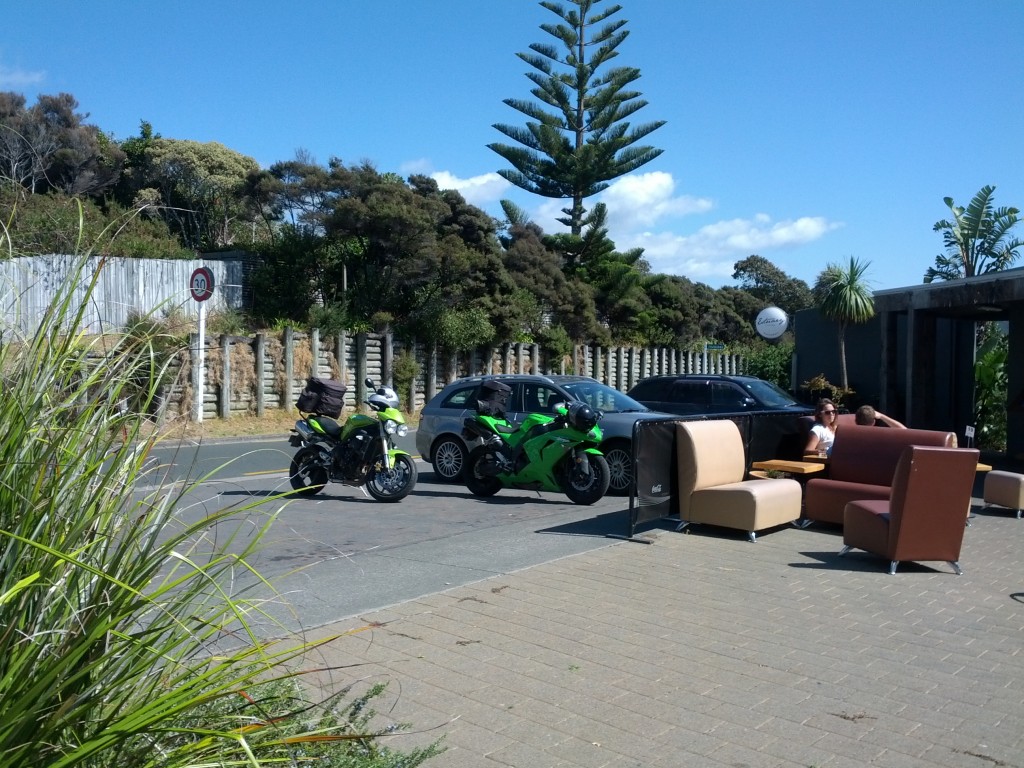 The weather was really fantastic, and it stayed that way for the whole trip. We got to Waitiki Landing where we had arranged to meet a bunch of the other riders and stay overnight at the campground. A bit of a disorganised arrival where our room had already been onsold, we were offered another room, but as Alistair's name was against that one, and as he was stood right next to me that didn't come off. Finally they found a spare room to put us in…. The other Alasdair had more fun – his room was available, but they had no key to unlock it… About 10pm one was found. A few swappa crate bottles had been duly swigged by then…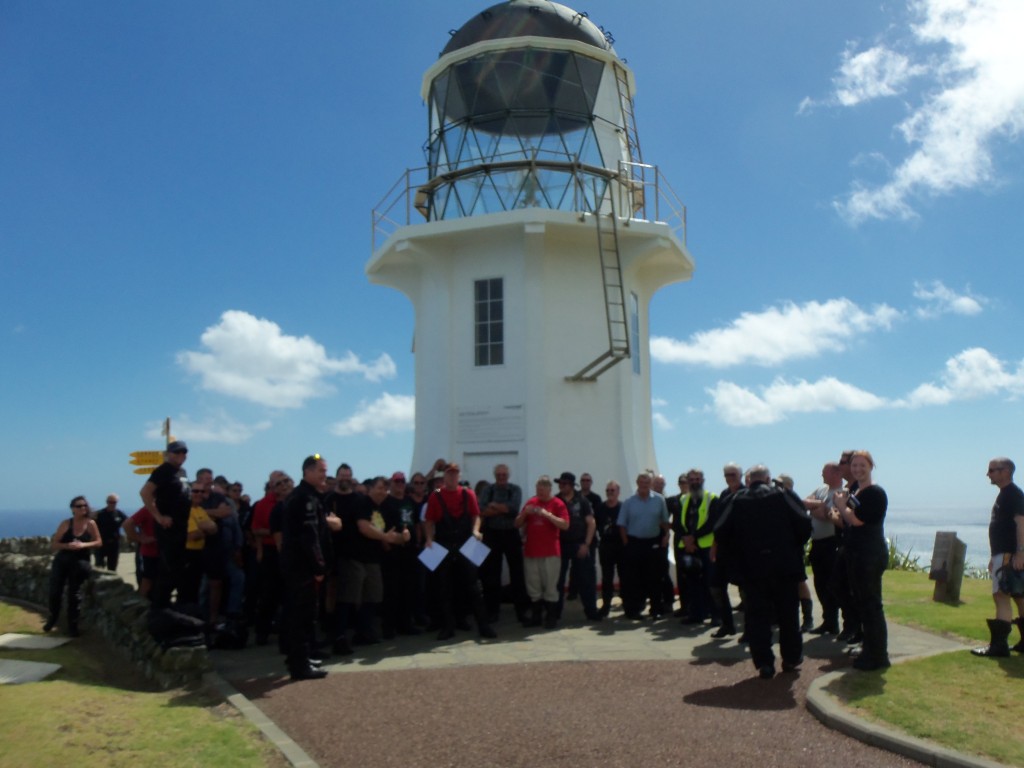 At 12pm the following day – a Monday – we could all be found in various states of undress walking down to the lighthouse in the heat for the pre trip briefing. A big crew this year – well over 100, and a good mix of new people amongst the familiar faces. At the start of the run, we were 1650kms from home.
Leaving Cape Reinga at around 1pm puts us slap bang into Auckland rush hour – not for the faint hearted, but we weathered it OK – UK motorway's do rather prepare you for that. 518 kms later, we pulled into Te Awamutu for the night. After a tour of the town, we finally found a bar still doing food and settled in for a refreshing beer and the biggest slices of pizza's we have seen for ages.
Tuesday morning was another cracker and we set out early for the Cape Egmont checkpoint. A quick stop off in New Plymouth for a new bottle of Scottoil – the ZX10 is either consuming a bottle  of chain oil per day, or not working at all at the moment… In Oakura we stopped for a much overdue breakfast and a natter with Ray and Ray and Tony before heading off to find the elusive sign for the Cape Egmont lighthouse. 780kms from Cape Reinga.
A quick scribble in the book when it arrived at 12pm to prove we had made it, and we were off to retrace our steps up SH3, across to Benneydale and cross country to Opotiki. An incredibly hot day meant any hold ups had me off the bike and hiding in the shade…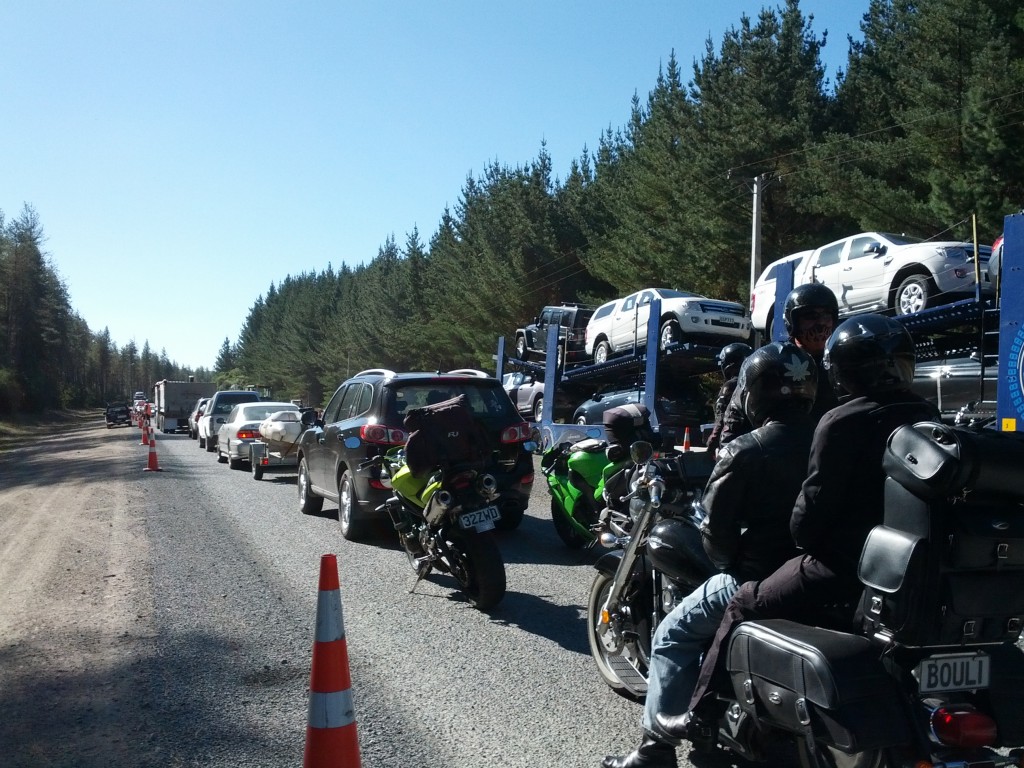 The night in the Opotiki Masonic Hotel was fantastic. Most of the tour were either staying or eating here and the pub was packed out. We were staying and had the luxury of having the bikes locked away off the street overnight. The food was great, the staff didn't bat an eyelid at the sudden influx of tired and hungry bikers having ridden 700 kms that day. A good place!
The East cape must be one of the most picturesque places to ride. It is a firm favourite so we extracted our bikes and were on the road at 8am. A quick fuel stop at Omaio bay to make sure we could make it round the Cape and we pulled into the cafe next to the campground in Te Kaha for the best coffee on the cape and a great breakfast – better then the instant coffee and fried chicken now on sale at the Omaio bay store…
Somehow the gravel out to the East Cape lighthouse didn't seem too bad, even though we had spent longer than planned over breakfast and were now racing to get to the end of the road before 100 bikes started heading back out towards us. 1410kms since Cape Reinga.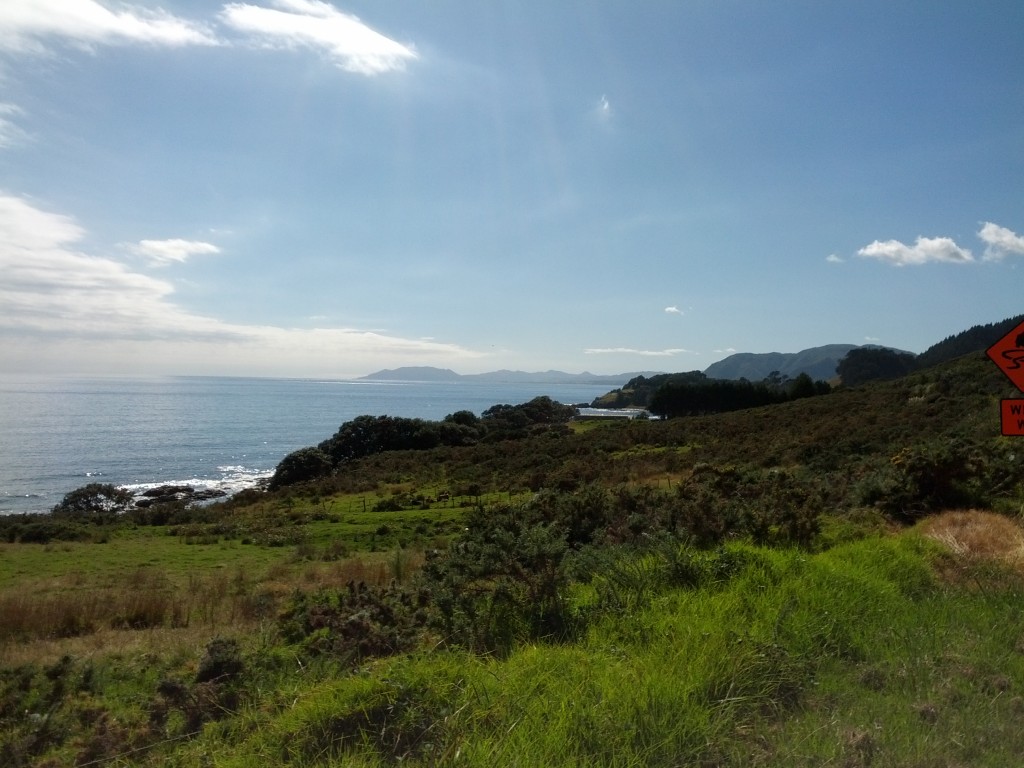 With an extra day in the schedule, we could afford to spend an hour hanging out at the checkpoint catching up with others whilst  most riders headed off. The road is a great playground, but better when not vying for space with 100 others as well as logging trucks and the inevitable road work crews. One thing we really didn't expect to see on our way out was Fibre being laid. The most remote community – getting super fast broad band internet first??!
Back on the road and we stopped at Te Puia springs for fuel and found their brilliantly named food stand KFC, or "Kai for Coasties"
By the time we pulled into Wairoa for our next fuel stop, I was starting to feel the kms, so a drink, some chocolate and a natter break got us back on the road. The last leg of the day from Napier to Dannevirke seemed almost endless… a reminder that splitting a riding day up with lots of breaks, just makes the day seem longer than it actually needs to. We pulled into Dannevirke to stay at the newly renovated Valhallez hotel. They were still sorting out the final upgrades, but well worth stopping here if you are passing through, and hopefully they'll have upgraded the beer selection to match the top quality food next time too.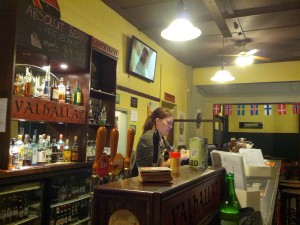 The next day was our most cruisy day on the bikes ever – we had a total of 200 kms to ride. We filled the bikes up (again! – oh for a 400km tank range instead of the 240 range of our bikes) and stopped for breakfast on the high street of Dannevirke. Spotting a R1200GS we introduced ourselves and found we had rediscovered a chap we had briefly shared a coffee with in Christchurch 3 years earlier. Next for a quiet run down to the Wellington ferry, a flat crossing, and a quiet night in Picton.
Heading out through Renwick, and a fab breakfast at the 3 bears cafe, we stopped at Murchison for fuel, and a coffee with Cheryl – wife of our sometime riding partner who is currently holed up overseas. Onwards down the sunny and dry west coast roads weaving in and out and revelling in the (world's greatest?) road between Makarora and Lake Hawea, to stay at Wanaka 800 kms later.
From there it was an easy run into Bluff 260kms south. Stopping for Breakfast at Lazybones in Athol, we shared our coffee with the Blydes and John M and cruised in for the final book signing 4838kms from home…. just as the rain started..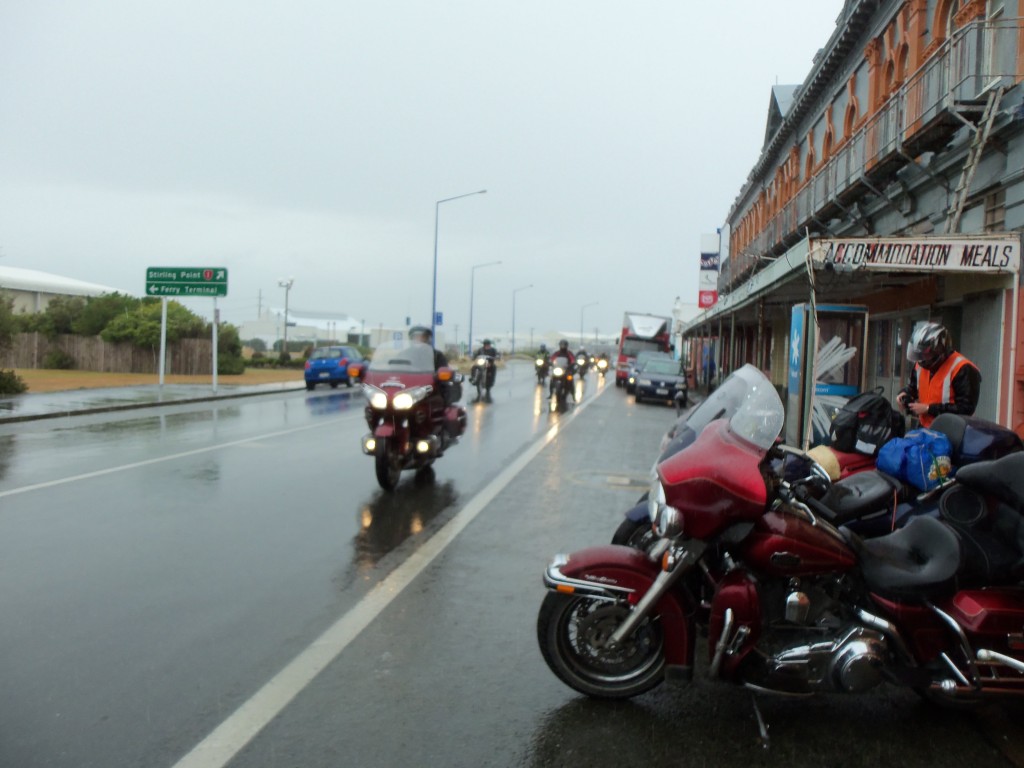 A quick bit of re-organising and we were rewarded back at the New Eagle Tavern with the best feed ever seen in Bluff laid on by a few hastily scrambled bikers / wives and Rusty's – credit to them, we were all very full, and I'm not sure how much business our usual dinner stop at the Anchorage actually got. Another great run, thanks to everyone who came and enjoyed it… and thanks to Luke for reminding me to get my blog up to date.