A word about our recommendations:
Beds: We are more often than not travelling by bike so the places we have found for you below are well suited for turning up to on two wheels. The accommodation invariably has somewhere to hide the bikes so we can go out for the night without worrying about security etc. We try to work on a budget of up to $100 per night for the two of us. We want comfort and basic convenience, but we don't need anything lavish as we normally arrive late and leave early, preferring to eat out.
Food: Corinne is vegetarian and Andrew is a red blooded meat eater – steak 7 nights a week is a good option for him! Accordingly the food recommendations should be good for anyone.
Coffee. We are both Long Black drinkers. If we like the coffee, it's because its good coffee. If you want to put other stuff in your coffee that is up to you, but rest assured the places listed below will start with a good base before they start piling things into it for you…
South Island
Suppliers
Tyres – if you are in and around Canterbury and find you need tyres… skirt the Christchurch bike shops and head out to Glentunnel. Don and Sharron at Pitlane will sort you out with the right tyres at the right price and a bit of straight talking. They work from home these days but still the best deals and advice for tyres. http://www.pitlanemotorcycles.com/
Accommodation
Central Otago: Omakau Commercial Hotel, right on the rail trail. Wonderfully restored hotel. Fab hospitality, great food, walk or cycle the Otago Rail Trail whilst you are here. They let us put our bikes in the (empty) stable so we could sit in the bar watching the snow come down. We loved this place – hope you do too.
Food
Akaroa, Canterbury: Bully Hayes cafe / bar / restaurant. If you need refreshment and you are in Akaroa, go here. Everything on the menu is marvellous. Even the service is really really good.
Kaikoura: Beach House Cafe, great food and coffee and fast service. Just 2 doors south of the Caltex garage, next door to the Lazy Shag backpackers
Westport (Carters Beach): If you are in Westport, get out of the township, head 10 mins south to Carters Beach and visit Donaldo's for breakfast overlooking the sea and a very relaxed outside eating area. They're open all day into the evening, we use them for brunch which is awesome after a ride up the coast.
Hampden, North Otago: Vanessa's Cottage Cafe, even if you aren't hungry, stop for a cheese roll, and if you are hungry there is something for everyone!
Southland – Orepuki, between Riverton and Tuatapere the Orepuki Beach cafe is an unexpected gem
Coffee
Punakaiki; between Greymouth and Westport. Dead opposite the Pancake rocks walkway there is a gift shop with a takeaway coffee bar at the front door. The BEST coffee in the country.
North Island
Suppliers
Insurance– Whether you live in NZ or are just coming for a holiday and need insurance for your travels, speak to Dave and the team at Kiwibike insurance – http://www.kiwibike.co.nz/ 
Accommodation
Bluebridge Sleeper Service, just incredibly handy when you're crossing from Wellington to Picton. For $40 on top of your crossing fare you get a cabin with 2 single beds ($30 for a single) and an ensuite shower/toilet. You board at around 11pm and land at 6am, perfect for breakfast in Kaikoura and gaining several hours to get further down the South Island, not to mention a really cheap night's accommodation. Not available on Saturdays or from Picton to Wellington.
Food
SH1B, Gordonton: The Firepot Cafe will not disappoint, we stopped for brunch again this morning and Every Single Customer went back up to the counter to thank the staff and say how much they enjoyed it before they left. It really is that good! 
Rotorua: When in Rotorua head down to Eat Streat (Tutanekai St). It's an amazing cosmopolitan pedestrianised area with food and drink for everyone. Choose a motel in the city and head down here in the evening. Brew Bar is a personal favourite, but there is something for every budget and seemingly from every region.
Ohakune: This quite unassuming town is hiding a foodies paradise! The Cyprus Tree is probably the best restaurant in the country at the moment – open for evening meals, it pays to book ahead. Alternatively there is The Blind Finch has taken some Kiwi classics for brunch and dinner and created so many variations, you'll have to keep going back.
Taihape: Cafe Telephonique next to New World. Heading North through Taihape, this is on the left just before the road goes right at the top of the town. Wow, wow, wow. Go here. With a normal person, a veggie and a dairy / gluten free person they shrugged off our questions as if nothing was a problem and out came the best food ever.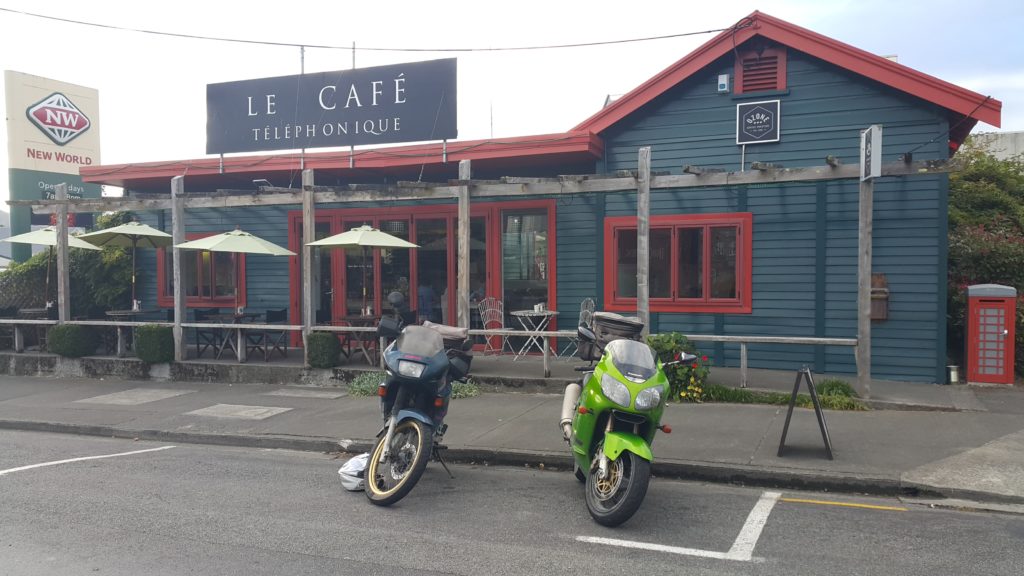 Our Base
Morrinsville 3375
New Zealand
Office Hours
Online Shop 24/7
Mon-Fri: 9am - 5pm
Sat-Sun: Closed (out riding)