A word about our recommendations:
Beds: We are more often than not travelling by bike so the places we have found for you below are well suited for turning up to on two wheels. The accommodation invariably has somewhere to hide the bikes so we can go out for the night without worrying about security etc. We try to work on a budget of around $80 per night for the two of us. We want comfort and basic convenience, but we don't need anything lavish as we normally arrive late and leave early, preferring to eat out.
Food: Corinne is vegetarian and Andrew is a red blooded meat eater – steak 7 nights a week is a good option for him! Accordingly the food recommendations should be good for anyone.
Coffee. We are both Long Black drinkers. If we like the coffee, it's because its good coffee. If you want to put other stuff in your coffee that is up to you, but rest assured the places listed below will start with a good base before they start piling things into it for you…
South Island

Suppliers
Tyres – if you are in and around Canterbury and find you need tyres… skirt the Christchurch bike shops and head out to Glentunnel. Don and Sharron at Pitlane will sort you out with the right tyres at the right price and a bit of straight talking. They work from home these days but still the best deals and advice for tyres. http://www.pitlanemotorcycles.com/
Accommodation
Karamea: Karamea Farm Baches just over the road from the pub, stay in a self contained quirky bach
Reefton: The Old Nurses Home, just off the end of the main street, this is comfort on a budget with unlimited hot water for a big shower too.
Hokitika: Stumpers bar and accommodation. Off road parking, comfortable en suite rooms and a great bar downstairs. What more do you need? Oh, and 2 mins walk to the beach for a great sunset too.
Central Otago: Omakau Commercial Hotel, right on the rail trail. Wonderfully restored hotel. Fab hospitality, great food, walk or cycle the Otago Rail Trail whilst you are here. They let us put our bikes in the (empty) stable so we could sit in the bar watching the snow come down. We loved this place – hope you do too.
Timaru: The Grosvenor Hotel – and if you do call by, please let us know if the big stylised photo of the Motorbikescape regulars is still up behind the bar!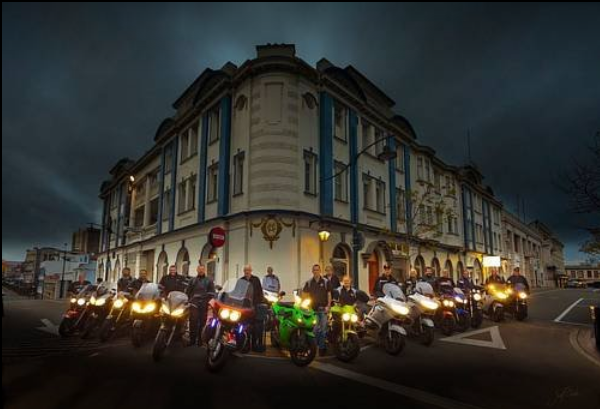 Food
Picton: Le Cafe (right on the water front, around the corner towards the marina). As the menu says, "we stubbornly insist on preparing your food to order." It's great food and always an interesting selection of craft beer in the fridge too.
Kaikoura: Beach House Cafe, great food and coffee and fast service. Just 2 doors south of the Caltex garage, next door to the Lazy Shag backpackers.
Akaroa, Canterbury: Bully Hayes cafe / bar / restaurant. If you need refreshment and you are in Akaroa, go here. Everything on the menu is marvellous. Even the service is really really good.
Westport (Carters Beach): If you are in Westport, get out of the township, head 10 mins south to Carters Beach and visit Donaldo's for breakfast overlooking the sea and a very relaxed outside eating area. They're open all day into the evening, we use them for brunch which is awesome after a ride up the coast.
Reefton: Dawson's Hotel (was Reefton Autolodge). A good selection of food and a good range of (mainstream) beers.
Fox Glacier: Cook Saddle Cafe and Saloon – yes, it looks like a wild west saloon, but believe us, it's great food and a much better bet than the attractive looking cafe next door.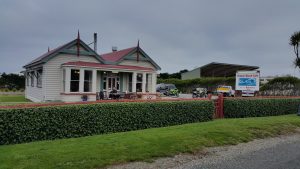 Southland – Orepuki, between Riverton and Tuatapere
The Orepuki Beach cafe is an unexpected gem
Coffee
Punakaiki; between Greymouth and Westport. Dead opposite the Pancake rocks walkway there is a gift shop with a takeaway coffee bar at the front door. The BEST coffee in the country.
Murchison: The Rivers Cafe – turn opposite the Mobil service station and 100m off the main street is a great cafe. For bonus points, if you need a new warm layer or waterproof jacket there is an outdoor wear outlet shop next door….
North Island

Suppliers
Insurance – Whether you live in NZ or are just coming for a holiday and need insurance for your travels, speak to Dave and the team at Kiwibike insurance – http://www.kiwibike.co.nz/
Accommodation
Whilst the South Island has a number of cool and quirky places to stay, the North Island is much more functional. We don't really have any go – to accommodation options. Hello campgrounds, AirBnb, BBH backpackers and Wotif: every trip is a lucky dip.
Having said that, here are a couple of options in areas that are otherwise hard to sort accommodation:
Takapuna (North Shore of Auckland): Takapuna Beach Holiday Park. It's a basic campground / motor camp with cabins, a cool view and only 2-5 mins walk to restaurants and bars. Helpfully it is only 5 mins ride to Barry's Point Road where you'll find all the main motorbike shops.
Hicks Bay (East Cape): Hicks Bay Motel – great views, and a good restaurant on site too. No more excuses for not going to the East Cape, be the first to see the sunrise from their deck.
Food
Rotorua: When in Rotorua head down to Eat Streat (Tutanekai St). It's an amazing cosmopolitan pedestrianised area with food and drink for everyone. Choose a motel in the city and head down here in the evening. Brew Bar is a personal favourite, but there is something for every budget and seemingly from every region.
Te Kuiti: Bosco cafe at the North end of town, it's a solid choice for coffee or brunch.
Ohakune: The Cypress Tree – most of Ohakune closes down outside ski season, but the Cypress Tree is open all year and is well worth a visit – get in early to be sure of a table though, it seems to be Ohakune's worst kept secret.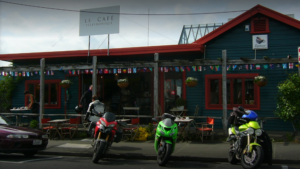 Taihape: Cafe Telephonique next to New World. Heading North through Taihape, this is on the left just before the clock tower. Wow, wow, wow. Go here. With a normal person, a veggie and a dairy / gluten free person they shrugged off our questions as if nothing was a problem & out came the best food ever.