Bonfire night around our place has become a bit of a tradition, but we were also itching to get out on the road, despite struggling to get time away from work and suddenly the November Quickie was underway. Leaving the Waikato on Friday morning, we headed out to the East Cape, which, as you might have gathered, is one of my favourite spots.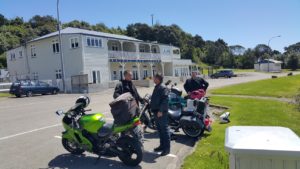 Collecting the rest of the group at Okere Falls over breakfast, we headed off to Waihou Bay for a quick lunch, more fuel and a long gaze at the really picturesque bay, then on round the East Cape to our overnight stop at Tolaga Bay.
With our big runs, there isn't much time for sightseeing, so on this trip we made a point of checking out a few bays on the way around – we went up to Lottin Point (apparently the motel is now being renovated so that's an option for later) and also into Hicks Bay village to check if there is petrol there (no) then on to Tolaga Bay.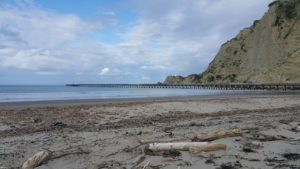 We were keen for a wander along the pier but some quick thinking meant that we checked the meal times at the Tolaga Bay Inn to find we had just 20 mins to get over there and order before they closed for the night.
Knowing the breakfasts in Tolaga Bay are good, we thought we'd investigate a new option for breakfast and headed out thinking we'd see somewhere on the way. Aside from Gisborne centre (stopping in town wasn't really in the spirit of the run), we aimed for Matawai, but all closed up there, so rolled into Opotiki with loud rumbling of bellies.
Back to our place for BBQs and a few more people turned up for the festivities so all bed rolls and tents were spread out and the BBQ and fire lit for a roaring night.