Never has a trip been more eagerly awaited than this one. After a long hard slog at work, we were finally on the road. Having sneaked down to Christchurch the previous weekend, we'd put in some hours in our Chch office and were ready to head to the south coast. Along the way we spent a night in Oamaru old town – both the Criterion Hotel and Scott's Brewery are worth a visit if you're looking for good beer and, based at Oamaru Backpackers, both were within walking distance. We also did a night in Balclutha which isn't recommended in its own right, but the riding through Kakanui, Trotters Gorge, over from Blueskin Bay to Sawyers Bay and through Kaitangata was fab. The real reason we were in Balclutha was because it was half an hour from the Tuapeka Mouth Ferry which was long overdue another crossing.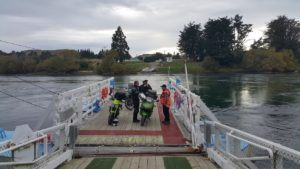 On to Colac Bay and we got there before the rain started. We were definitely happy to be installed in the bar that afternoon as the rest of the group arrived soaked through… Not a bad bar to hang out in and the 2 litre beer jugs were welcome, as was the good food. Through the night the rain pounding on the roof wasn't boding well for the coming day… but yay for sunshine when we got up on Monday for a clear run up through Southland, cafe stop in Kingston, an excellent run through Lake Wanaka / Hawea and on to Hokitika.
Stumpers in Hokitika laid on a great meal as ever, all the better for the cheap, newly refurbished ensuite rooms upstairs. An early start on Tuesday as we needed to get a jump on the unpredictable road works between Murchison and Blenheim due to the Kaikoura Quake traffic.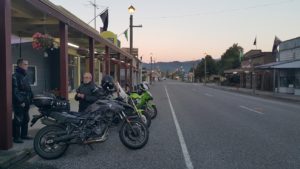 We all made it to the ferry in good time and a really smooth crossing followed by a weirdly traffic free run up to Paraparaumu.
After a sooo calm crossing of Cook Strait, we arrived in Paparaumu that night to be met by Chris who couldn't make the trip, but still came out for dinner and put up with all of our stories from the road… Leaving town on Wednesday morning, I saw the best sign, but missed getting a pic… If anyone is driving from Kapiti Road onto the Expressway North, I would love a pic of that Expressway sign pointing north if you can please (email to rides@motorbikescape.co.nz)
So Day 3 and we're heading for Cape Egmont. Brunch at the Mothered Goose in Bulls – if you haven't been, try it out on the corner of SH3 and SH1. On to the cape and we hung around in the drizzle just in case those who said they'd join us there actually showed up. They didn't, but the drizzle stopped and it was a nice sunny stop.
On to Benneydale for the night and the biggest surprise of the tour. All roads do lead to Benneydale – talk to any biker for more than 5 mins and a story about a ride though Benneydale is bound to surface. So now I know where it is, and the understated cafe did us proud for an overnight stay – the roast dinner was in the oven on arrival! So awesome, we're going back for the Gathering (Queen's Birthday 2017) .
Whilst the rest of the country had received a severe drenching all week, we'd only seen a bit of drizzle for half an hour at Cape Egmont, so it was only fair that we got a bit of rain heading out on Thursday morning, but that finished before we stopped for breakfast in Rotorua and sunshine prevailed as we headed out to the East Cape.
The Hicks Bay motel looked after us that night – starting with beers on the deck overlooking the bay, and we headed off on Friday morning refreshed and with the sun at our back. We chose the Karangahake Gorge route, but the traffic is now crazy on that road, so probably use the Kaimais in future… then on through the early afternoon traffic in Auckland and out to Waipu. If you're in Waipu, go to Madly Indian – really great curry 🙂
As an aside, I'd pegged this as the curry and pizza tour as the veggie options at all of the places we were staying seemed to be either one or the other, but as it turned out, I had pizza in Oamaru and curry in Waipu and lots of interesting things in between.
From Waipu, on Saturday, Andrew's navigating kicked in again and we found some brilliant back roads to lead us up to Kaitaia and onto Cape Reinga. Well it lead everyone else onto Cape Reinga but I had to admit bloodymindedness had let me down. I'd opted to go touring the back routes instead of taking the sensible option and following the other Street Triple into Whangarei for a new back tyre. In Kaitaia on a Saturday afternoon, I had to admit defeat and head for the motel in Kerikeri to save what rubber I had left for the 400km trip home. But still, I insisted on a photo of the Cape and this is what I'd missed: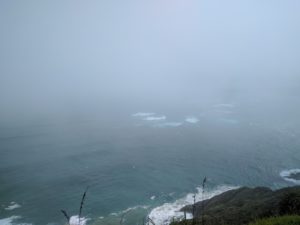 So all that remains is to thank everyone that came along for all or part of it and made our holiday a bit more varied and fun! See you all in Benneydale on Queen's Birthday and we'll do a bit more of a social tour in March / April next year – slightly shorter days, slightly more time for catching up at night – make a note in your diary.