Time to stretch our legs a little, so we headed to Europe.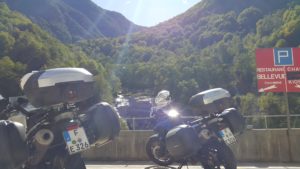 There was quite a bit of planning went into this trip as we wanted to combine a scenic route with scoping options for future trips – finding out what worked for us and what didn't when riding overseas.
We know that if we're riding, we're happy. If you dump us in town for a couple of days and tell us to amuse ourselves we're completely at a loss. So this was a tour of the alps with a bit of a tangent thrown in.
It wasn't planned as a gastronomic tour, but what little we knew about the areas we were headed to involved beer in Germany, coffee and pizza in Italy, cheese in Switzerland, Black Forest Gateau in the Black Forest and as many luge tracks as I could find.
First, we needed to find hire bikes because, whilst expensive, it was the only option that made sense with only a week on the ground. The cheapest bikes I could find were in Slovenia, but we couldn't fly direct from NZ and the time and cost to transfer from an international airport made it a non starter. Next up, was a hire co in Frankfurt. I'd started planning a route from Frankfurt to the Alps and picking possible overnight stops when the same co opened a branch in Munich. Bingo! We could fly direct to Munich and it was much nearer the Alps.
Normal trips in NZ would see us planning 400 – 600kms per day. With the unfamiliar sights and roads, we decided to dial this back to 200 – 300kms per day. It turns out this was a great plan as travel times are much slower in Europe unless you want to burn up your annual leave sitting on an autobahn (we didn't). Google maps gave us the heads up with expected travel times but we were sceptical until we arrived and started riding – villages are so close together (less than 1km between in many places) that average travel speeds were little more than 50kph all day. Our longest day was just over 400kms and took us 10.5 hours with (relaxed) stops only for coffee and meals.
Bikes
We got 2 x BMW F700GS. Mine was a "low" my initial concerns that even the "low" model could be too high for me were unfounded when I found that I could reach the floor with both feet – at the same time. This is unheard of and a bit weird but it turns out that bikes are much easier to manoeuvre when you can easily reach the floor – who knew? Exciting they were not, but these bikes chugged along all day without needing any real riding ability which meant we could focus on sightseeing and navigating. If the roads had been more conducive to "playing" these bikes would have been sadly lacking, but as a sightseeing steed, they were oddly well suited.
The bikes came with hard luggage, a first for both of us. I'm sure the car behind got a giggle when we pulled up at the first set of lights to chat and I nearly got punted into the kerb when the wider-than-we're-used-to back ends collided! But, that aside, hard luggage bolted to the bikes made the trip easy – we had our stuff in a couple of soft bags each and these slotted into the boxes each morning and were easy to grab at night, leaving the bulky boxes on the bikes. Top boxes are brilliant as a secure helmet stash when stopping, e.g. for an impromptu luge track escapade…
Routes
We're not there yet with using GPS for navigating, so all of our routes were planned in advance and printed to go in a tank bag (we have magnetic tank bags that can also strap on for a plastic tank like the GS). Nope, Google isn't right all of the time but it's good enough to sort directions, and adding town references and general notes make this a very doable way of getting around, if you have the patience to plot the routes in advance.
The trip
We had planned to fly into Munich on Friday to collect the bikes on Saturday. We sacked the travel agent that recommended flying in Saturday morning because a) jumping on a strange motorbike and riding down a strange street on the wrong side of the road is a stupid thing to do after 25 hours flying and b) paying to rent a motorbike that spends the first 15 hours in a hotel car park is a complete waste of money. So land Friday, hotel booked, and the hotel also arranged a shuttle to collect us from the airport.
Walk into town from the hotel for dinner (peanut butter jelly jam burger!!) and bier (Erdinger Weissbrau as we were in Erding) then a decent sleep and the same shuttle people came back to take us over to the rental depot on Sat am. We got there half an hour early – to sort paperwork and final payment + pack the bikes up. We could leave our flight bags at the depot
You've got to have a theme for a trip and I wanted to ride as many luge tracks as we could find, so the first stop was Mieders, Austria. Accommodation courtesy of the village website was a home stay for EUR40 including breakfast. However, we'd spent too long talking before getting on the road and with the added rain, it took us 4.5 hours to travel 200kms and the luge was closed when we got there. Our hostess told us it had been closed for a couple of weeks due to either rain or frost so we would have missed out anyway. That night I realised I didn't have my passport or driver's license. We had to wait until Monday morning to be able to ring the bike depot and confirm they were still in his photocopier…. Fortunately there are no border controls in Europe as I didn't get them back until we left the following weekend.
Next day was a 350km day, planned to take 7 hours, which it did. We took the SS44 mountain road because it looked scenic, despite Google being adamant we should take the longer route around the hill, and as we climbed up into snow it was comforting to have seen some bikes heading the other way. I didn't think until later that they might have turned around… but a light dusting of snow was fine and we had the most amazing lunch at a roadside guest house, and were also pleased to find these Italians spoke German so we could order and converse using my rusty schoolgirl German ? We bypassed the famous Stelvio Pass in favour of going via St Moritz and the Maloja Pass which seemed a good choice followed by a night at an Air BnB in Chiavenna – a stunning little town for scenery and quaint town-ness.
A chance find of another Air BnB convinced us to head away from the Alps for a day and to see a bit more of Italy. I lost the plot a bit this day. Our Air Bnb in Chiavenna didn't do breakfast so we happily planned to grab something on the road – but saw nothing roadside and eventually went off route to find food. Italy doesn't seem to do breakfast as a café meal, and with no Italian language, we couldn't ask about options. We ended up with coffee and pastries from a bakery on lake Como (purely because we could order by pointing and smiling!) but then couldn't get back on the road we had left. At this stage our printed directions were useless and I quickly got hungry and consequently couldn't navigate.
Suffice to say we did a couple of laps of outer Milan trying to get back on track… But the Air BnB at the end of the day was worth it all for a slice of pure Italy. Andrew had fab spaghetti at a local's restaurant and I had a sloppy Margherita Pizza to top off my crap food day.
The next day was our big 400km 10.5 hour run back over the Alps, through the Simplon Pass (like Arthur's Pass in NZ's South Island but much, much bigger and peppered with cows wearing cow bells). It was a beautiful trip,
a bit farcical being tailgated by the police on the Italian motorway when we were doing the speed limit, which didn't seem to be fast enough for them… Switzerland opened up before us as lots of small villages with big wooden chalets. Looking ahead, we saw rain clouds gathering on the Grimsel pass so stopped to don wet weather gear. The snow was so thick at the top, my visor was fogged up and the wind was getting pretty gusty – so much so that I stopped to consider checking into the conveniently located hotel. Andrew was keen to continue, despite the obvious perils of heading downhill in snow and I returned to my bike to find I'd parked the front wheel in a snow drift I hadn't seen. I set off to follow Andrew with a massive fishtail slide and some wide eyed stares from the road crew who, it turns out, were just closing the road, but sent the snow plough out in front of us to clear a track. 500m later, the snow was gone and we just had rain to accompany us into Lucerne city. Thanks to lots and lots of Googling, I had found an affordable hotel in Lucerne with secure underground parking for the bikes (yep, that was extra, but worth it) so the following day we could walk to the train station. This was a day off riding and we played tourist up a cogwheel railway onto Mount Pilatus, then a gondola down to…the Luge track, then another gondola home. So, two nights in Lucerne, which isn't the cheapest place to loiter, but better pizza than the previous Italian experience (and a fried egg and chilli oil to go on my pizza!!)
and the second night we headed for the old town and watched the city go by over Pretzel sandwiches (worth the trip just for them!!), bier and something else to eat, can't remember what it was, but nice, and also, expensive!
Thursday we headed into South Germany for a ride around the Black Forest and found the first open roads with sweeping bends of the trip. Whilst quite short lived, it was a nice interlude. Another luge track on the way was heaps of fun, despite the massive school group that arrived at the same time. A link from google maps gave us our accommodation that night in Schiltach at a wonderful B&B with a restaurant on site and a place in the owner's garage for our bikes.
Friday, I thought it would be nice to ride along the shore of Lake Constance. It's pretty famous, and it turns out everyone heads there, so we sat in nose to tail traffic for its approx. 60km length, but at the end of the day, no luge track, but Neuschwanstein Castle. Our host (a Wotif find this time) showed us the locals' walking track to avoid the crowds which we didn't know we were about to hit, took us to the best view of the castle, and on to find a restaurant (avoiding the beer hall with schoolchildren Oompa Loompa band…) for dinner.
Saturday morning was a quick run along the autobahn – the first autobahn of the trip, and I think we upped the average travel time for the whole week. It was a bit weird to travel at 140kph after a week of meandering, but it served the purpose of waking up in the country, but still having the bikes back by the agreed 11am return time.
Hurray – when can we do it all again?!
Thanks to Allround Vermietung for the bikes (and for opening in Munich in time for our trip!)
If you'd like a copy of our route sheets, or more info on any aspect of our trip, just send us an email!