This trip had it all – Southern Hospitality, Northern temperatures, riders that did the whole trip, riders that did one island or the other, old friends and new friends that joined us for lunch or dinner or a night along the way, road closures, torrential rain, and very nearly, some dancing on the tables!
The ride down to the start was part adventure, part teeth baring grins. Andrew's ZX-12R had a little hissy-fit as we were about to leave so a quick change saw him back on his ZZR250 and fingers crossed it was going to be as reliable as it used to be! We high tailed it to Wellington, for a curry with Alasdair, poor compensation for him not being able to come with us, but the curry was good – cheers Al!
Onto the overnight Bluebridge which seems to board later and later every time we use it. But still arriving in Picton at 6am is good way to start the day and the Kaikoura coast is still beautiful in the sunrise, even if the road is still stop-go-board-bumpy. Brekky in Kaikoura with Rob, and a roadside catch up with Hicky who just happened to be passing through and we tootled into Chch.
Fast forward over the few days we spent working in Chch and we grabbed a new tyre from Don @ Pitlane in Glentunnel (thanks Don!) and spent the night in Oamaru – the new owner at Oamaru Backpackers is bike friendly and Scott's Brewery a few steps down the road has fab beer and pizza and we got lucky that the jazz festival was in town too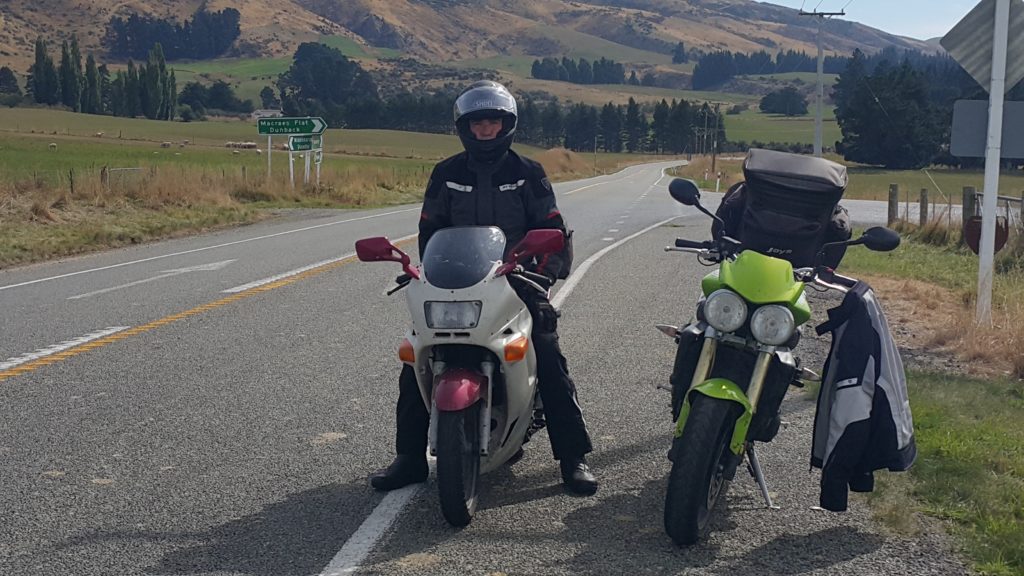 So on down to Owaka in the Catlins. We stayed at Thomas's Catlins Lodge – an old hospital which is a brilliant place to stay. A side trip to Bluff and we found the Curio Bay road is now sealed and very pretty, but perhaps watch out for the causeway if you try it at high tide? Folker and Graham met us that night in Owaka, setting off the following morning onto the first of Andrew's carefully plotted back routes. We rode some fab roads out the back of Tapanui and Clyde before the rain started and we skated into Glenorchy for lunch and to collect Hicky again. Hello to John and Jane who met us there and yay as the road had dried out on the way out! On to Makarora knowing the weather was a bit glum on the West Coast but I was so excited as we passed through Hawea and it was still dry, we had about 50kms to go and I was hoping we'd get 5-10 dry kms as that is THE BEST ROAD in the country as far as I'm concerned. Jumping jacks!! It was dry all the way and oh did we make the most of that stretch of road. We checked into those A-frame cabins that put Makarora on the map and headed into the pub – hello to Neil and his mates, fresh from the Vincent meet. First priorities; I ordered a jug of Monteith's Black – welcome to the West Coast as I was presented with a 2 litre glass pitcher of beer, when I was expecting a one litre plastic jug, cripes those big pitchers are heavy when you're not used to them!
As we washed down dinner, Neil took a call on the house phone – the weather forecast had got much worse for the trip up the West Coast planned for the following day. Much hand wringing ensued – had the forecasters got it wrong (hoping so…) and we'd have a glorious run, or was it actually going to be as dire as predicted? We couldn't agree, so delayed making a decision until morning. Morning dawned and there was already a slip blocking the road between Fox and Franz Josef glaciers so the decision was made for us and we headed back East to breakfast at the Tarras café – those ladies were awesome, we just about flooded their floor with our wet gear and they just kept smiling and delivered us coffee and their yum food – thanks lovely ladies – we appreciated it!!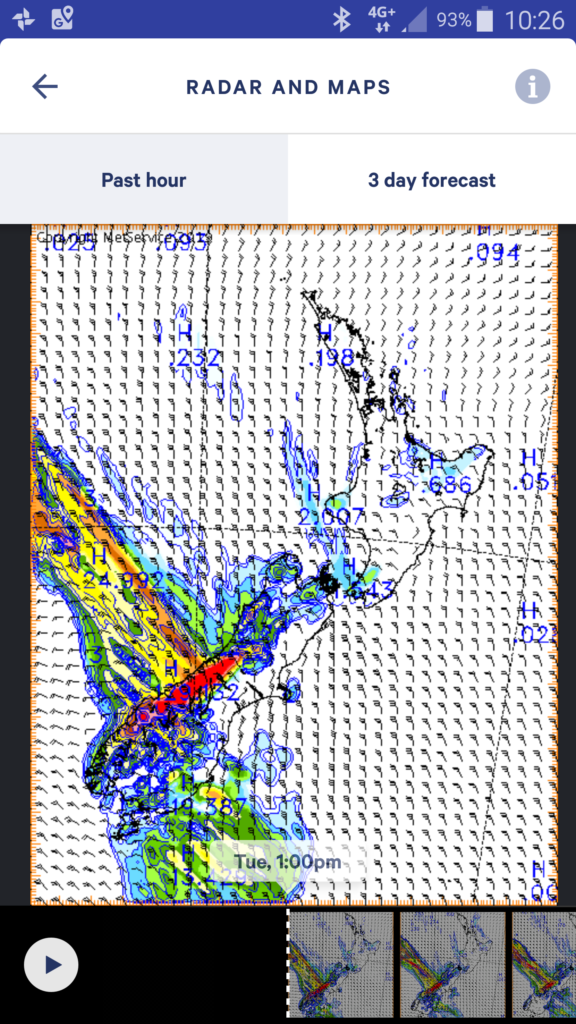 From there it was a bit ho hum, because really, who wants to ride through Canterbury twice in a week? We found Rawhiti House – another ex hospital hostel to stay in Geraldine which was also fab (spotting a theme here?). Onwards up the inland road via an unexpected find in a 50's themed diner in Oxford to Amberley, Culverden and overnight in Kaikoura. Next, we shared the ferry to Wellington with a bike gang which made for some interesting eavesdropping, before meeting Roger & Bee who were joining us for the North Island leg and Chris A who came out to tea in Plimmterton. So with a couple of not-as-interesting-as-we'd-planned days, but not as interesting as it could have been if we'd been on the Waiho bridge at Franz Josef when it got washed away, we headed north through the back roads of the Hawkes Bay (good routes Andrew!). We collected Derek and the bubbly Vicky in Bayview for the run up to Mahia. If you haven't been, you must go here, it's pretty, it's relaxing and the pub is instantly your local as you walk in. So one thing led to another and suddenly Folker is being taught to play pool, everyone is dancing and the drinks keep coming! Sad to leave the next day for sure!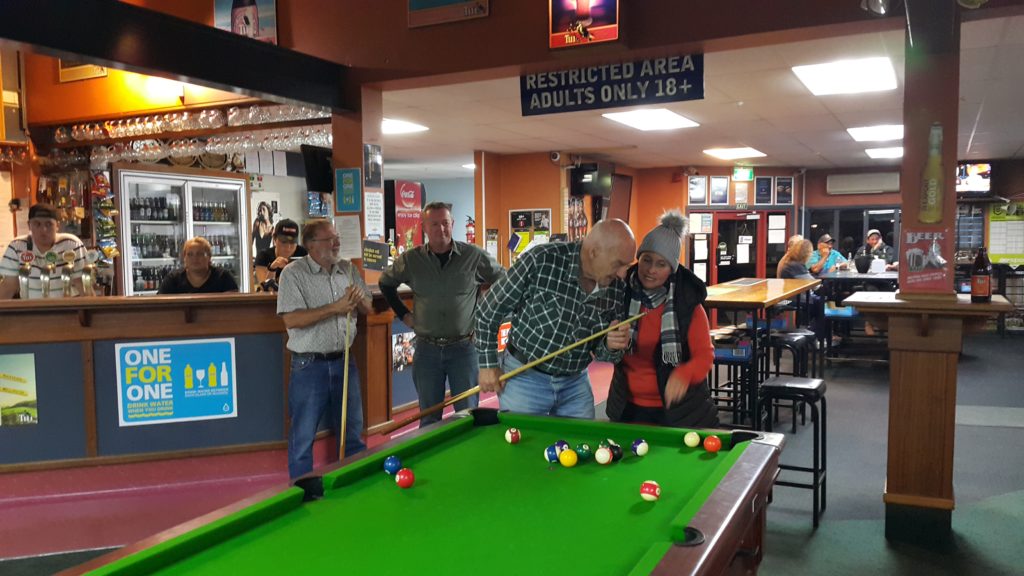 More back roads and we found our way onto the Waioeka Gorge without touching Gisborne which was nice, then double bonus, the Hard Drive café was open on Matawai and they agreed to cook us up some brekky which was one of those how-is this-going-to-work-out experiences which was quirky and tasty – definitely added a certain something to our day! I think every time I've travelled along the Whakatane coast it has been sunny and this was no exception (love my airflow jacket!) it is sooo pretty along there – it almost made up for not doing the East Cape on this trip! It felt like a downhill drift into Waihi Beach for the last night such an easy run. It was just brill to catch up with John M and David here and the pub laid on good food and beer and a band that held much promise, but would have left my ears ringing for weeks if the boys hadn't dragged me home when they did!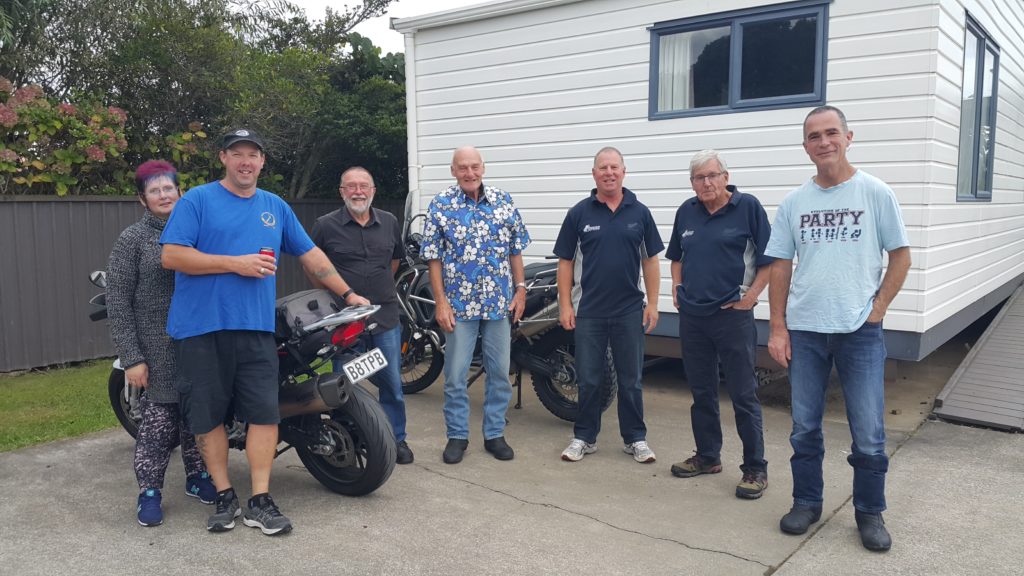 Thanks all, these trips are a real break from the day job and everyone that comes along adds to our fun. We're looking forward to the next one – and hope you can make it too!
The route we rode – slightly different to the planned route up the West Coast and into Takaka, but the weather gods will involve themselves in route planning!