We must have pleased the weather gods for this one. Saturday was a much better day than predicted as we headed south out of Rotorua, looped east heading for Murapara then north to Whakatane, then back through a tiny-but-sealed back road to the lakes and back over the top of the lake round Hamurana. It was only as we started the last little loop that the winter weather hit and there was a distinct possibility of snow for a wee while there. Having avoided drizzle all day, we got back to the accommodation freezing and made a bee line for the hot showers, followed in fairly short order by a sprint to the nearest warm pub.
Five of us stayed at the Funky Green Voyager in Rotorua and were very well looked after. The owners are both really friendly and Mr owner was a keen admirer of motorbikes and also very well travelled so great to chat to. He turned out to be one of those rare breed who will willingly lend tools, for which we were really grateful on Sunday morning when we had to extract and replace a dead battery from the bowels of the frame recess of one of the bikes.
Rotorua laid on a great selection of culinary options – tapas on Friday night, a pancake cafe on Saturday morning, a welcome warm pub with craft beer on Saturday night, a brilliant Italian on Sunday night and a couple of good cafes on Sunday and Monday mornings.
Sunday, after the frustrating battery debacle, Merv joined us for a day ride down in the general direction of Taumarunui. We stopped at the Waituhi lookout on the way through to enjoy the scenery – amazingly I got a pic of the bikes that wasn't at a petrol station OR a cafe!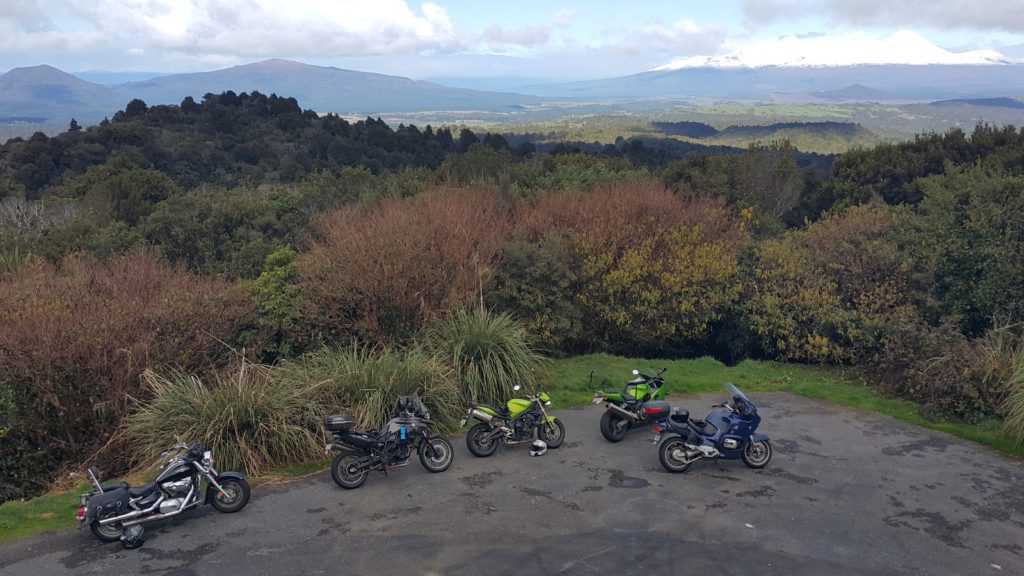 Due to the delayed start – we cut out part of the route coming home to make sure that we were home before dark – I really love our small group rides where we flex according to the needs of the day. We were all happier waiting / helping sort the battery so we could ride the day together, then cut the route to suit in the afternoon and had a great natter about it all in the restaurant that night.
Yay for "cool" winter rides!