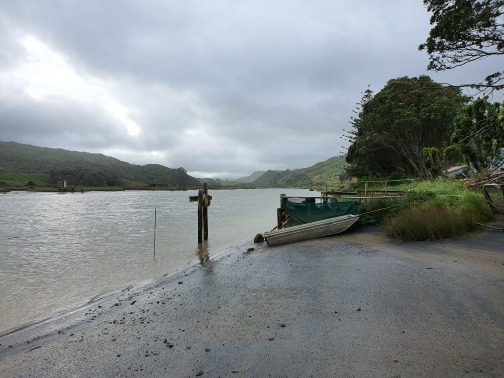 November Quickie – Awakino 2019
Our annual "it's been too long since we had a decent holiday and let us go ride our bikes" weekend rocked around none too early this year. The Awakino hotel had been calling out to me as I passed every couple of months over the last year and this was the perfect opportunity to check it out.
Given the day job was fairly frantic, we had to give up on our preferred route via Marokopa and the coast and instead took the direct route down SH3. With all the press about the work on the Awakino tunnel bypass, you could be forgiven for thinking that the current road would be in OK shape. As it turns out, the road is slipping off the side of the hill towards the river, so to add to the roadworks to build the new road, there are the roadworks to pin the current road to the hillside so that it survives until the new road is built. With ample opportunity to ogle the scenery whilst waiting at stop/go boards and traffic lights, we were reminded how pretty it is through here.
The Awakino pub is a real gem. It's a proper locals' pub and also appears to be an outpost clubroom of at least one motorcycle club, but not on this particular Friday night. The guest rooms have been spruced up and there is even a residents' lounge with tea and coffee etc. The beer flowed freely – we're were stoked to discover Speights Old Dark on tap – and dinner was steak / whitebait fritter / veggie burger (ahem, that'd be me) topped off with some great conversation with the bar lady who came over to join us when her shift ended.
As is often the case, most, but not all, who had said they were coming actually arrived, but as we were in a cell phone black hole, we were super happy to relax with good beer and good conversation and leave those who stayed at home to miss out.
Saturday dawned fine and clear, as the saying goes. We fought our way back through the roadworks in the Awakino Gorge to breakfast in Piopio. Despite mixed experiences here recently, the brunch was yummy and after a couple of coffees we were ready to follow Andrew down a set of flowing back roads to Waitomo and back through to Morrinsville touching State Highways for only a few hundred metres at a time.
The BBQ prep was a quick frenzy in our kitchen, then we kicked back to enjoy the evening, culminating in lighting 5 bonfires which were sun-tan-worthy at 50 paces.
Thanks to everyone who came and made the weekend; I think we can survive work until the Christmas break now….