5,400kms, 13 days, 9 bikes, 14 people and endless sunshine! Come riding with us, we know where to go and how to get there!
I don't think this ride could have got any better!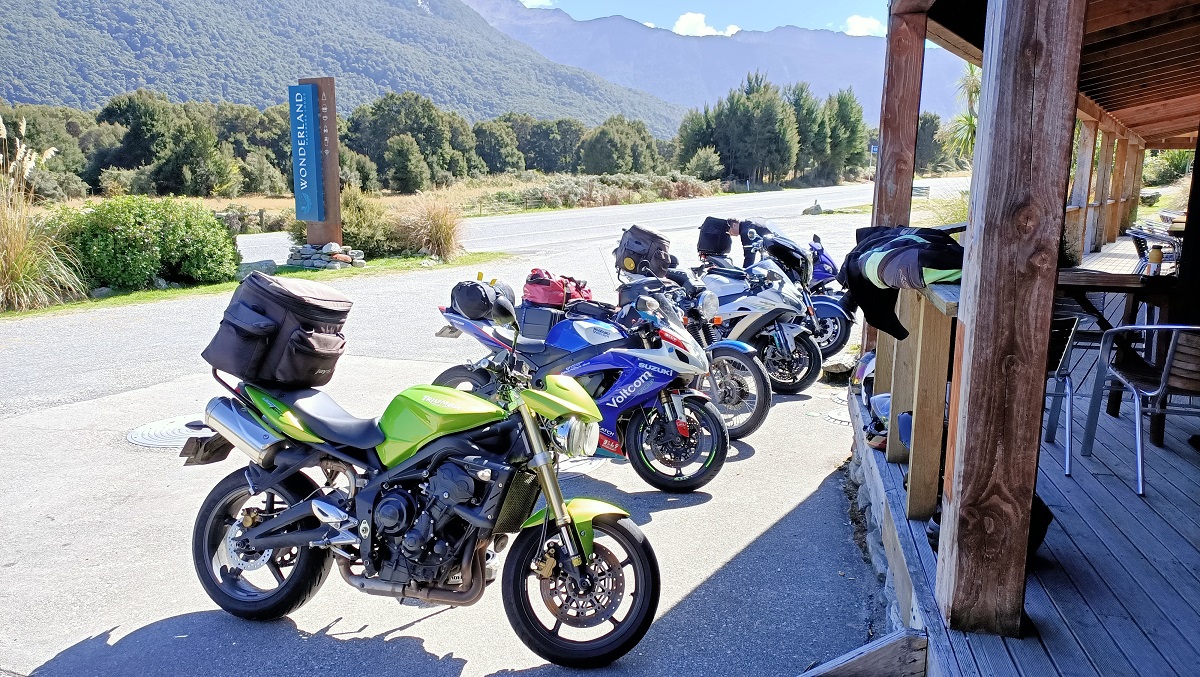 We set ourselves the challenge of getting from as far North to as far South without using State Highway One. For those who know NZ – that's reasonably easy in the South Island, but gets quite tricky in the North Island. We made it! From Waipu (Northland), we carefully avoided the main road to get through Auckland (it's pretty narrow there and SH1 is the obvious through route) then down to Hawkes Bay and into Wellington over the windy Remutakas.
Even before we got to the start, we had a pickup – Kevin joined us as we went north through Auckland en route to check out a funky little place we'd heard of for a lunch stop.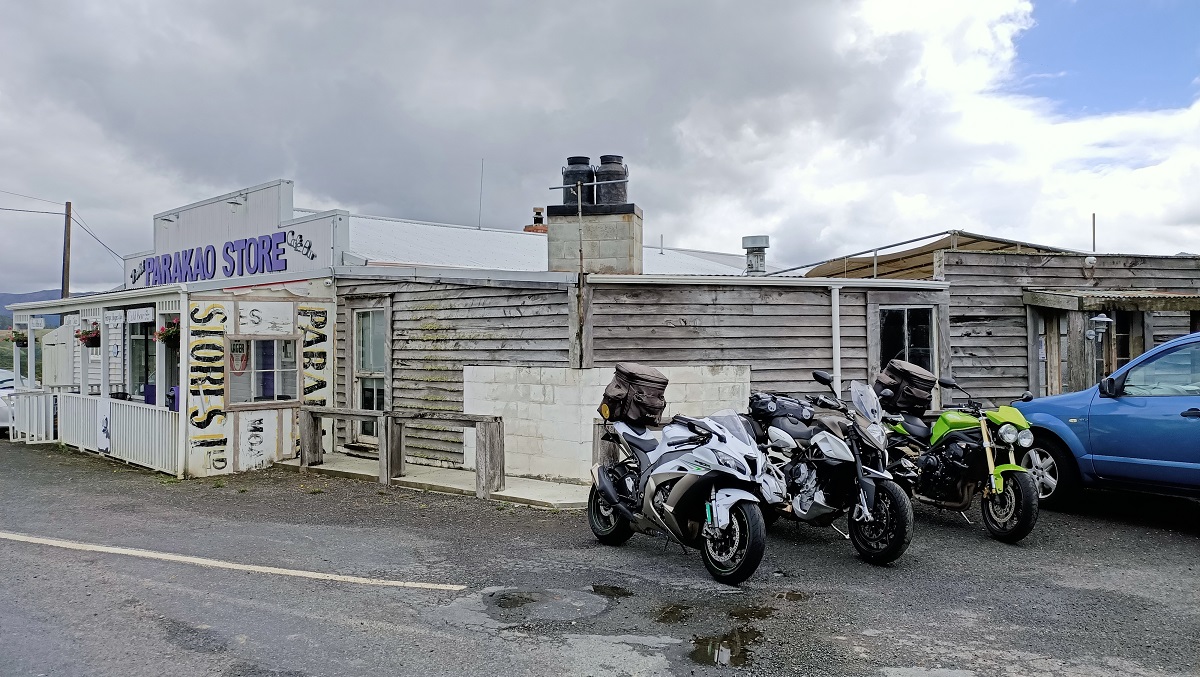 Rolling into Waipu, we collected Alasdair and headed to McLeod's brewery and pizza bar in high spirits. There is nothing like the night before a run to have a few beers and get really excited about what is coming. We chattered away at such a rate I was on the strepsils the following morning!
There is something about Waipu Cove and Langs Beach, it is always sunny there. I'm sure that coast wouldn't look ugly even in a storm. What a lovely way to start our trip!!!!
Singing our way right into Acacia Bay near Taupo for the night we picked up our next blimey-haven't-seen-you-for ages friend. Swiss had trekked over from Taranaki to show off his MV Augusta, ahem sorry, to come and say gidday. I don't know how many touring groups could boast 2 x MV Augustas, but we lined them up on the front at Lake Taupo for breakfast the next day.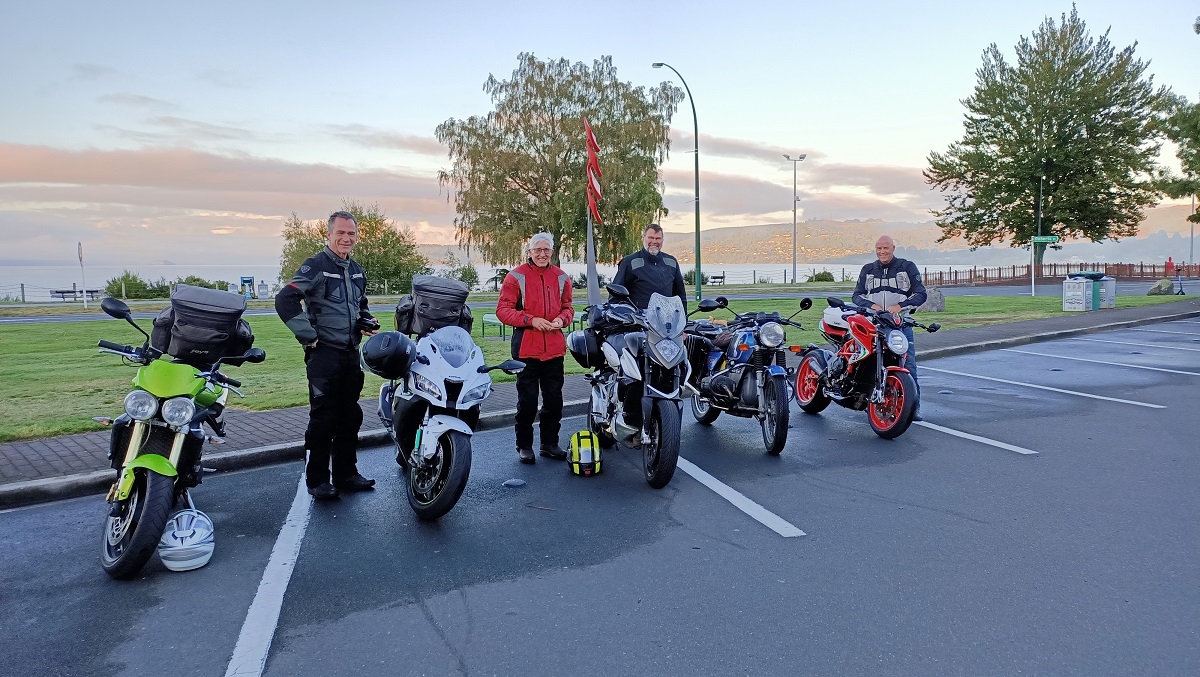 It seems that our grins (or the sunshine?) were infectious as Swiss decided to carry on with us the following day. We wove our way through the back of the Hawkes Bay and tackled the Remutakas with some trepidation as that wind can be horrible. Good news, nobody got blown across the road this trip and we landed safely in Wellington for a curry with a couple of locals whilst we waited for the late sailing to Picton. We knew we were meeting up with Tony and Ange that night, what we didn't know (and nor did they) was that they would buy a new bike on the way to meet us. You know, when your bike is part way through getting a warrant, and you spot the newer model on the showroom floor? Yep, the temptation was too great for Tony!
Landing in Picton at midnight after a 4 hour crossing isn't something you choose to do, but Interislander had cancelled our mid afternoon crossing. We were super stoked to be met in person by the landlady of the Piwaka Lodge who cheerfully checked us in whilst our South Island companions had stayed up and even arranged a nightcap for us, thrusting a beer into our hands as soon as our bags hit the floor. Thanks guys!
Tuesday morning dawned a little damp but the Queen Charlotte road is all speed limited so we got some good views as we gently followed the coastline, still avoiding SH1.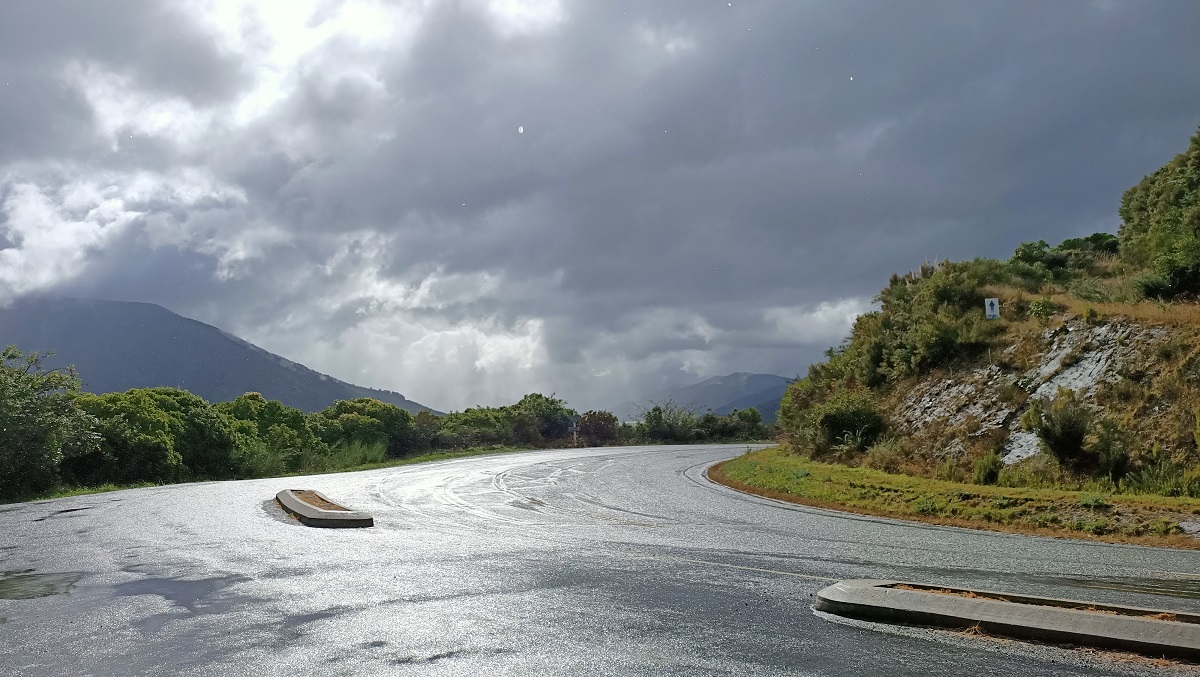 My back tyre was looking a little worse for wear, which was quickly sorted as we had time for a pitstop in Nelson – shout out to Nelson Motorcycles for great service and a fast turnaround. Next up was an overdue trip to Takaka. I had fingers and toes crossed for this bit as we'd booked to go here every year for the last 4 years and had to cancel for the last 3 of them. The first year a landslide took the road out and there was boat access only, which kinda scuppered that. The next year, we were heading for the West Coast road when the Franz Josef bridge blew out and we were forced to backtrack up the East Coast eating up the time we had planned to stay in Takaka. Then, of course 2020 was the year everything got cancelled. So, hurray! The sun is shining, the road is open (well there is one set of traffic lights from that slip 3 years ago, which is fine) and yay! We got to finally meet our hostess, Tina at Kiwiana Backpackers, and yes! it was totally worth the wait. We had half a plan to head up to Farewell Spit, however we decided to ditch that plan as the narrow sticky outy bit we needed to ride up to get there would be even more windy than it had been coming over the Takaka Hill. We mooched around Takaka and chilled out at the Roots bar instead.
Heading out the next morning we followed the Motueka West Bank Road, a sealed and scenic alternative to the main route south. Top idea and still the sun was shining on us as we passed all those lovely beer hops being harvested for our drinking pleasure later in the year.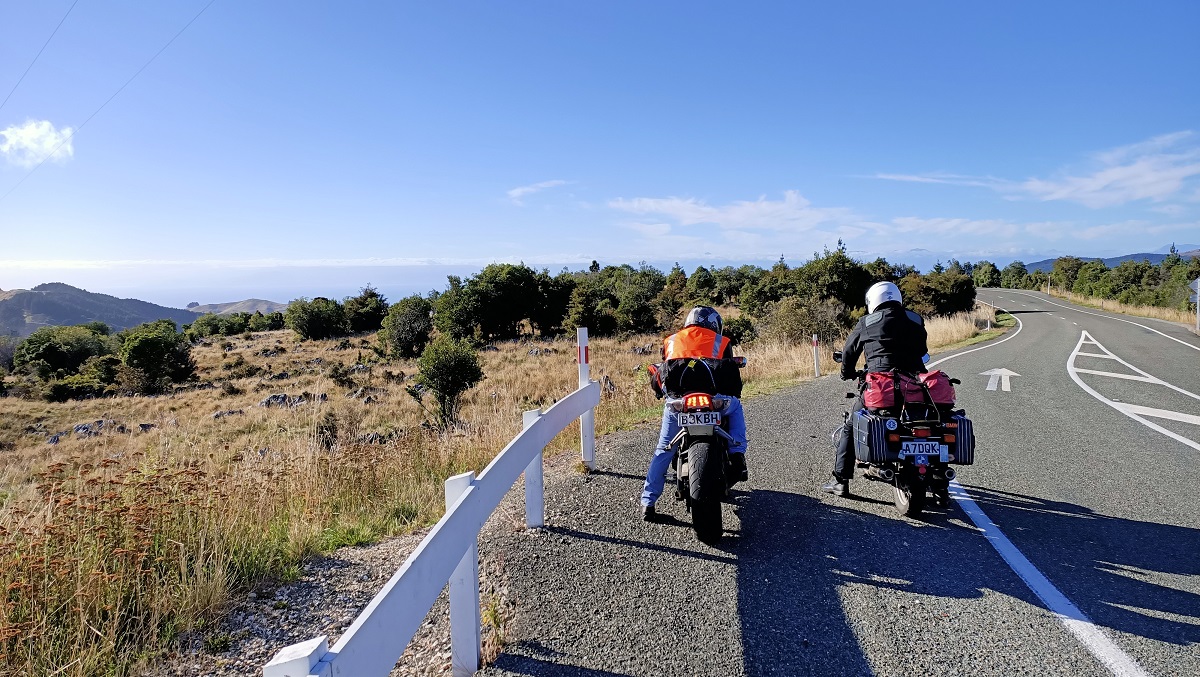 That afternoon was a bit of a mixed bag. The riding was fab, the weather was fab, but when we stopped for a coffee, we spotted the GSXR600 (see, we all ride nice sensible touring bikes) had a coolant leak. We tried a couple of mechanics who both fobbed us off and finally sorted it with some Radweld. Venkat was ecstatic. Like the rest of us, he was buzzing at the prospect of every day's adventures and the prospect of limping home and missing out had wiped his smile away too quickly. Cliff (the man with the beers in Picton) had had to detour back to Christchurch for a family thing and rejoined us today for the last hour as we headed to the hospitality of the Hotel Hari Hari. Being a pretty new rider, the West Coast blew his socks off and he let out a big Wahoo! as he ripped off his helmet at the end of the day. Why don't I do that anymore? I certainly feel like that every day I ride!!! Side note, don't bother with the Hotel Hari Hari, especially if you are intending to eat as packet mix mash and overcooked steaks will offend.
If Cliff was whooping after an hour of riding that day, the following day capped it all. Continuing south, I'd never seen the West Coast so calm. We were all riding at our own pace so I kept pulling over to take pics, it was so magical.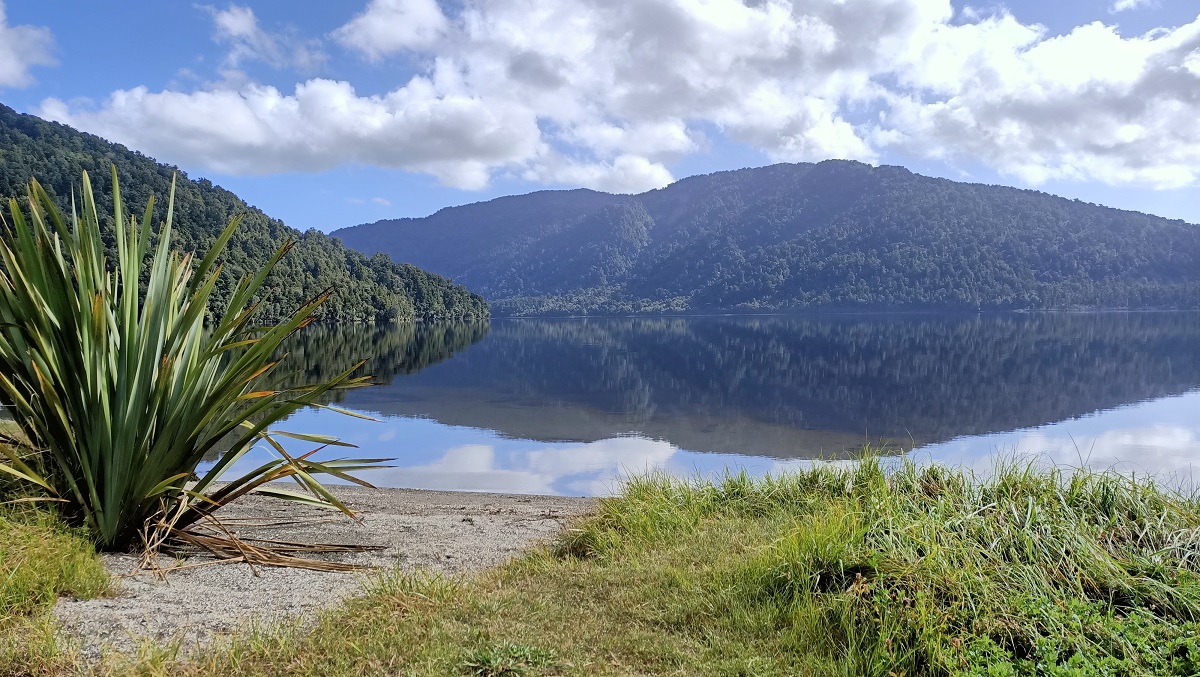 If you haven't ridden this route, pack your bags and go as soon as you can; Haast Pass, Lake Wanaka / Lake Hawea, Crown Range then on down the Devil's staircase alongside Lake Wakatipu. Do it in the sunshine (haha good luck with that on the west coast, but wow we timed this perfectly!). That buzz got us through the long straights of Northern Southland and deposited us happy but tired into Te Anau.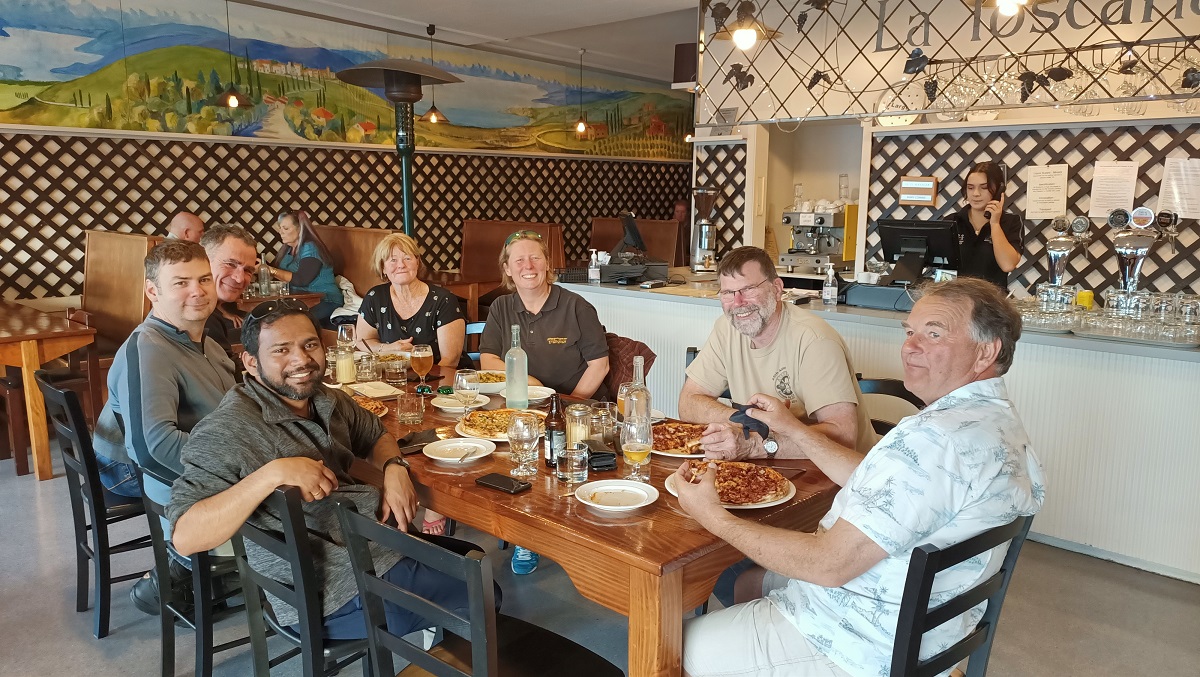 Thanks guys, see you all again soon!!