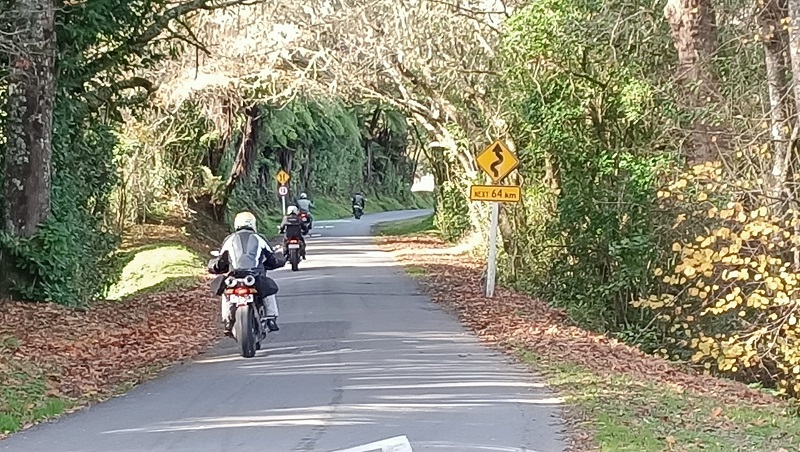 This was a concept we dreamed up last year to fill the void following NZ's COVID lockdown when we were supposed to be overseas on a celebration trip. Instead with COVID still looming, we sorted a weekend ride for every weekend in June. Minimal organization, and no massive inconvenience if we had to cancel…there was another one coming the following weekend. Anyway, it was a total success and we really enjoyed putting our house chores on hold and walking away from our computers on a Friday night ready to hit the road on Saturday, coming home on Sunday night with just enough time to do some washing and start work again on Monday. This year was a little…wetter.
Ride #1: Queen's Birthday in Turangi.
Hint #1 – Don't go to Turangi on a long weekend. There simply aren't enough cafes or restaurants to cope with the number of visitors. Not knowing if anyone was going to join us for this weekend, we hadn't booked tables for dinner. By the time we had checked in, had the bike riding motel owner invite himself to join us and tell us another rider had checked in intending to join us, we fished out our phones to find messages from another couple of regulars who had also arrived in town to join us – so we were a good group – and it was only Friday night. Saturday dawned bright and clear and we had a fabulous run out to the Whanganui River Road and into Upokongaro. Here we discovered the recently refreshed café doing a roaring trade with food wait times slightly longer than the queue at the counter, but nice, eventually. Back to Turangi up what was Fields track with a couple of extras who had flagged us down along the way – these runs are gathering momentum!
Sunday we'd planned a loop up to Te Kuiti to meet another rider. The drizzle started as we pulled into Te Kuiti and by the time we left town it was getting heavier. The tar seal down those back roads wasn't a good combo with the rain and we all had "slip sliding away" playing through our minds as we descended one particularly slippery hill. A minor navigational blip, and some much heavier rain saw a fairly subdued bunch slink back into Turangi for a hot shower and ready to do battle for a dinner table again. Fortunately, the rain seemed to have emptied the town out and dinner was a fairly easy, relaxed affair. On Monday, the rain was back, the cafes were opening late (if at all) and it was a bit of a let down after so many good Queen's Birthday runs that we couldn't have a big brekky with the whole group before heading home. Next year!!
Ride #2: Taranaki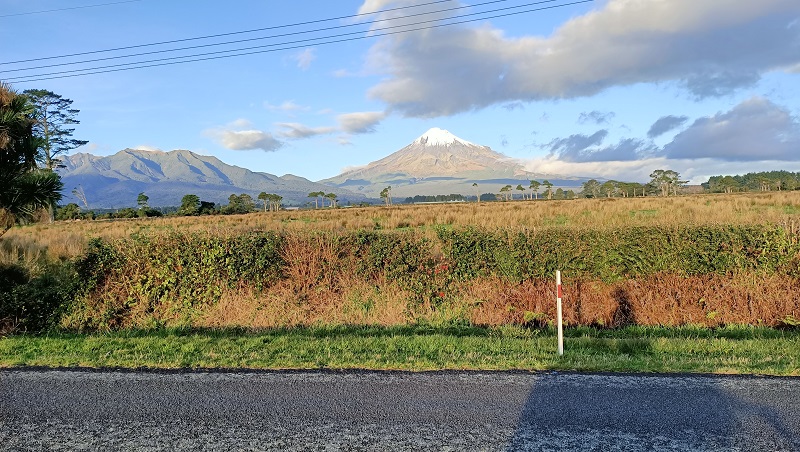 We don't like to repeat ourselves, but this was such a cool little find last June, that we couldn't resist. We booked into the Oakura Beach Holiday Park as the cabins are right on the beach and the sunsets are fabulous. We knew Alasdair was coming up from Wellington for this one, but again we thought it would be quite a quiet weekend. Once again I got the heads up as I checked in that another couple had checked in to join us – I KNEW Tony and Ange would struggle to resist a trip to Taranaki! So much for watching the sunset though, we arrived around 5pm having pit stopped at the new Mexican food caravan in Ohura on the way in and the guys were ready to leave for the pub as soon as we rolled in. In the end, 7 of us wandered up to Butler's Reef for a distinctly average meal eaten in good cheer and great company. We got out of there pretty smart and debunked to our cabin with a bottle of wine and a bottle of Baileys to swig out of toothmugs! Classy maybe, but a good night turned around.
The following morning with a damp day forecast, we headed south to an old favourite café – the Arty Tarts in Opunake. Admittedly, when the drizzle started, and after last week's drenching out of Turangi, I was questioning why on earth we were riding south into rain when home was 4+ hours North of our starting point. Fortunately it was a single passing cloud, and we commandeered a corner of the café to enjoy their top notch, down to earth big breakfasts. If you follow our map you'll know that we do a lot of back roads. The route from Midhurst to Urenui had always eluded me – just too many twists and turns to memorise, but today I triumphed and got out on the route I wanted with no prompts, no map checks and no gadgetry. Hurray! We even found this cycle bridge masquerading as a public road!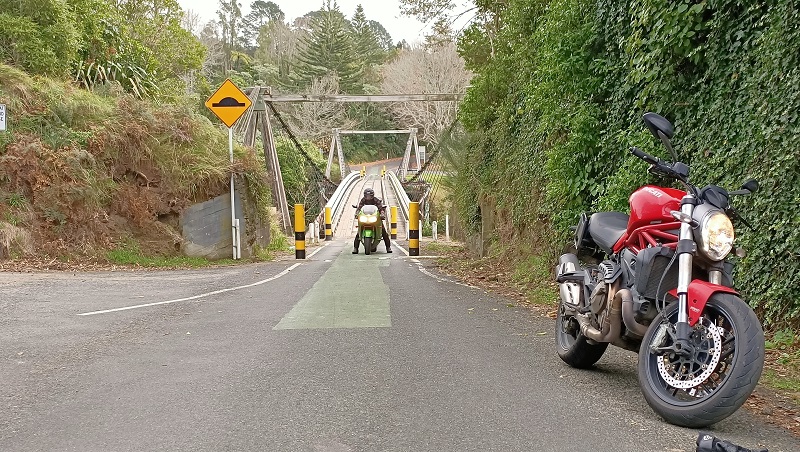 Ride 3: Kerikeri and Kaikohi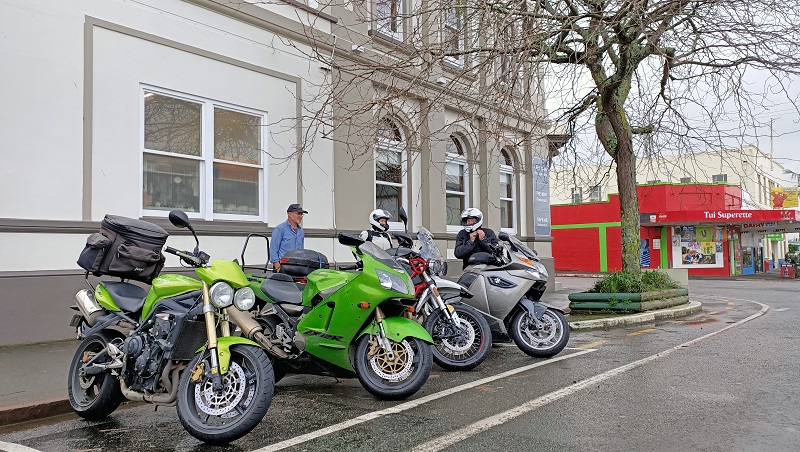 Guess what? We went back to Northland! So nice, although the traffic into Kumeu is starting to wear a little thin. However, we did shoot off onto Ararimu Valley Road in the back of the Riverhead forest, which was a nice detox, especially with a stop off at DD's café in Waitoki to recharge ?. On up the backroads to Maungakaramea and on to SH15 up to Kaikohe. It was fine all the way and we were loving it. But as we left Kaikohe, the rain started and got serious, fast. A handy verandah gave shelter whilst we tugged on wet weather gear and slunk onward to Kerikeri. We were due to meet Swiss and Rachel here, but a text from them told a sad tale of a puncture up at Matauri Bay. They finally rolled in having dispatched one bike home on the tow truck. A quick change and we were all keen for a warm venue and some good food.
The following morning was clear again (yay finally!) and we had a top wander across to Mint at Left Bank in Kaikohe for breakfast. Click the link for the back story on this lovely old building turned café and accommodation. Carolyn and Kel swept through the door to join us here too, so we had a good catch up between the 6 of us before heading south… just as it started to rain. It was proper wet all the way home (and not an insignificant distance from up there either!) Once again the clothes horses and floor towels adorned our lounge for the rest of the week as our gear baked dry ready for the next weekend.
Ride 4: Manawatu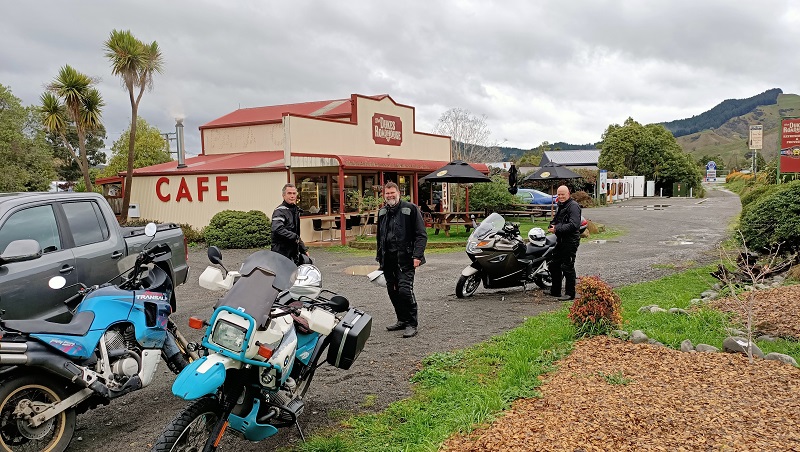 Guess what again? It rained again!
This weekend was one we'd been looking forward to as a return to the iconic Cheltenham Hotel on the corner of the Rangiwahia Road and Vinegar Hill. We did have a nice cruisy trip down, even discovering a great pie and even better chocolate brownie at the Awastone café on the Rangiwahia Road on the way in. Swiss and Alasdair joined us for a chilled night in the pub, followed by a much anticipated breakfast at the Dukes Roadhouse in Mangaweka. Living up to expectations with a quirk but yummy breakfast we were loathe to leave as the grey clouds were already rolling in. When I say, it rained, we got wet, we got home… that pretty much sums up the enjoyment of that ride, it was slippery, visibility was terrible, I got wet and cold… we were pretty pleased to see home that day!