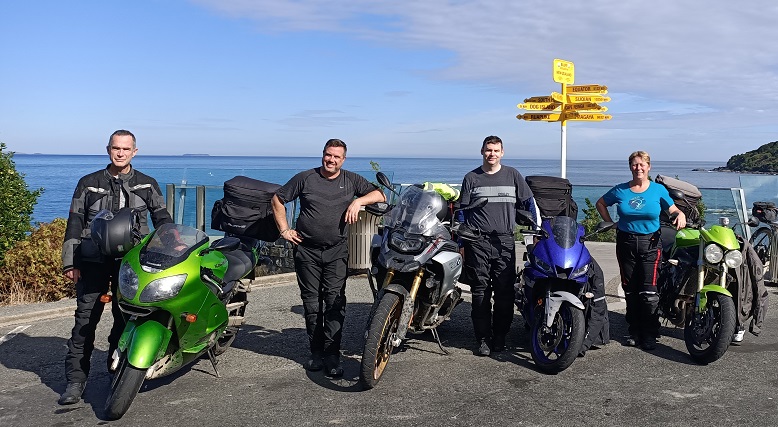 Every March for the last 15+ years, we've ridden a lap of this little country of ours. It's fair to say that sometimes we wonder how we're going to keep it interesting. But without fail, we're still wowed by the amazing scenery and the people who come riding with us. I particularly love that feeling around 5 days into a big ride where the bike becomes an extension of you and corners just flow with no (or very little) braking going in, or realigning part way around, ooh, I could get all poetical about now, but I won't!
Getting there is half the fun
We inadvertently added a day to the start of this trip when I decided I wanted to check out the stock at City Honda in Palmerston North, and as they weren't open on the Sunday we would have been passing, we set off on Saturday, and managed to exchange cash for some new gear too ?.
This gave us a spare day in Wellington before our ferry booked for the Monday morning. Kindly accommodated by Alasdair (and his wife Sandra), who we met on one of these trips about 14 years ago, I inadvertently scored a test ride on a new Indian FTR1200 for a couple of hours. I'm kinda sorta looking for a new bike and this looked like it might fit the bill. What a great way to kill a day! The bike was good, a little unusual, but I'm a fan of quirky, unfortunately the small fuel tank killed any ideas I might have had of taking it touring.
Onwards to the South Island! Half way across the Cook Strait, I got a call from our friend in Kaikoura, (I'm sure he moved there so that we could drop in to see him every time we get the ferry), his girlfriend had just tested positive for Covid, so staying there didn't seem like such a good idea with a trip ahead of us. We quickly sorted a night out in Christchurch instead and caught up with another old friend. Planning to meet up with Cliff and Seeby the following morning, we woke to torrential rain. Normally we'd put our head down and get on with it, but with a short day ahead, we decided to pause for a couple of hours whilst the worst of the weather blew through – that worked, we had a good trip south to Oamaru with only a little drizzle.
We were heading for Stewart Island. It's been 10 years since we went, which seemed like too long. We tried to share the Tuapeka Mouth ferry experience with the boys on the way past, but the water level was too low and the ferry wasn't running. However, one ferry that was running was the one to Stewart Island and it was so calm, I stayed out on the deck for the whole crossing.
We spent a couple of nights and a full day chilling on the island (no, we didn't hiab the bikes onto the passenger ferry to ride the 27kms of roads… not this time anyway).
Then it was back to reality, back to the mainland and on to the start of the run.
When is a group ride not a group ride?
What is most refreshing about our rides is that everyone finds what they enjoy most.
We had nominated a small Southland one-pub-town as our meeting point for the start of the run.
Dave – had left Tauranga 4 days previously and done a lightning run the length of both islands to fulfil his dream of taking his motorbike into Milford Sound, somehow, he was blessed with amazing weather for the whole trip and was really happy when he met up with us.
Alasdair – has a R100GS PD and arrived via several of the South Island high country, gravel passes. He had some stunning pics taken with huge vistas with his bike covered in gravel, and no doubt a huge grin from behind his camera.
Seeby – had been with us since Christchurch and now wanted to catch some friends in Queenstown, but also with a hankering to see Te Anau by bike, so as we checked in to Tuatapere, he waved and carried on by, to catch up with us the following night in Middlemarch.
Me – I thought it might be a touch early to start drinking at 3pm and I wanted some photos of the Southland scenery to give some colour to our social media posts for the day, so I took off for an hour to wave my camera at the scenery.
Cliff – this was Cliff's first big trip around both Islands and he just wanted to tuck in and enjoy the ride. He rode with Andrew and I all week. His fuel range matched ours well, his riding style suited us and his big grin and "Yahoo!" at the end of every day, made him a super fun riding companion!
That is pretty much what happened for most of the next 7 days.
3 of us had small (240km range) fuel tanks, but those BMW GS fuel tanks just keep on going – so we'd start the day with a fuel stop, whilst others would head straight out up the road. We got some great action shots – with one stood at the roadside as part of the group caught up and went past.
Side shows
We're not fans of tourist attractions and sightseeing of the kind that involves handing over money for a plastic guided tour. Sightseeing from the bike is what we're all about! But sometimes, the opportunity presents itself: We'd planned a café stop at Makarora but the café was closed (thanks Covid!) and there are the Blue Pools just down the road so Cliff and I decided to check them out and have a short walk at the same time. Haha, I knew they had moved the car park, but I didn't realize this was compensated with a much longer walk to get to the pools. 3.5kms isn't very far, but in sunshine and full bike gear, it was a wee bit of a slog!
Another day, Dave's helmet had had its own adventure in the wind and needed replacing. We scratched our heads on this one on a Saturday night in Middlemarch – where to get a new helmet on a Sunday? I'd heard there was a handy little bike shop in Alexandra and miracle! They also opened on a Sunday. Sure, the guy hadn't turned up to work that particular day, but someone knew someone who had the phone number of the owner and within an hour or so Dave had a spangly new helmet that he was very happy with! Happily, there was also a very nice café right next door where we all got a yummy feed (and saved Dave from the combined wisdom of eight of us advising him on his new purchase!)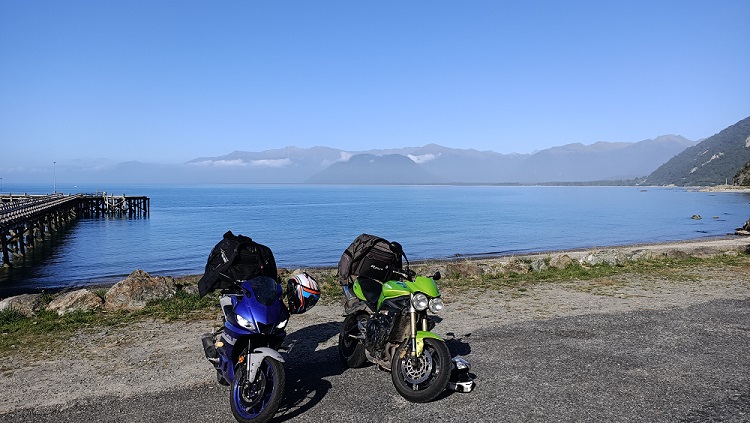 The North Island team
Arriving in Dannevirke for our first night back in the North Island, Kevin was waiting for us. He'd had an epic run down from north of Auckland and just had a few days spare to tag along for the last few days of our trip.
Tony and Ange have also become regulars on these trips, but a combination of work and bad luck meant they could only join us for dinner this time around. And what a dinner – the Vietnamese in Dannevirke served up the best food of the whole trip! It was all too much for Tony, he reappeared the following day on his bike to join us for the morning on his local roads!
Repairs and Maintenance
Somehow, I don't remember having to stop for maintenance on my travels 10+ years ago, but now, 8 bikes travelling for 5,000kms together, there always seems to be something that needs fixing or replacing on the way. This trip it was 3 back tyres we needed to find. I started the trend with a replacement in Invercargill rather than potentially miss out on any side trips later in the week for worrying about longevity of my rubber. We were (literally!) kicking tyres in Wairoa – that's a pretty small and remote town out East – and noticed both Dave and Cliff's tyres needed sorting. Dave got lucky with the local bike shop (amazing!), whilst Cliff had a frantic ring around and found a barely used second hand set in Whakatane – right on our route the next day. Honestly, the sun shone on us in so many ways on this trip!
How was Covid?
We were right in the midst of the "Omicron" peak in NZ when we left on this trip. This was 2 years after NZ closed its borders. The biggest thing we noticed, was the reduced menu in most places we ate. With no tourists to keep the plethora of cafes and restaurants open, combined with our preference for out of the way small town stops, we ate a lot of straight-from-the-freezer-into-the-fryer food this trip. After 3-4 days the group cry was "no more chips!" Very different to the massive range of yummy stuff we normally indulge in on these trips. Otherwise, it was pretty much business as usual.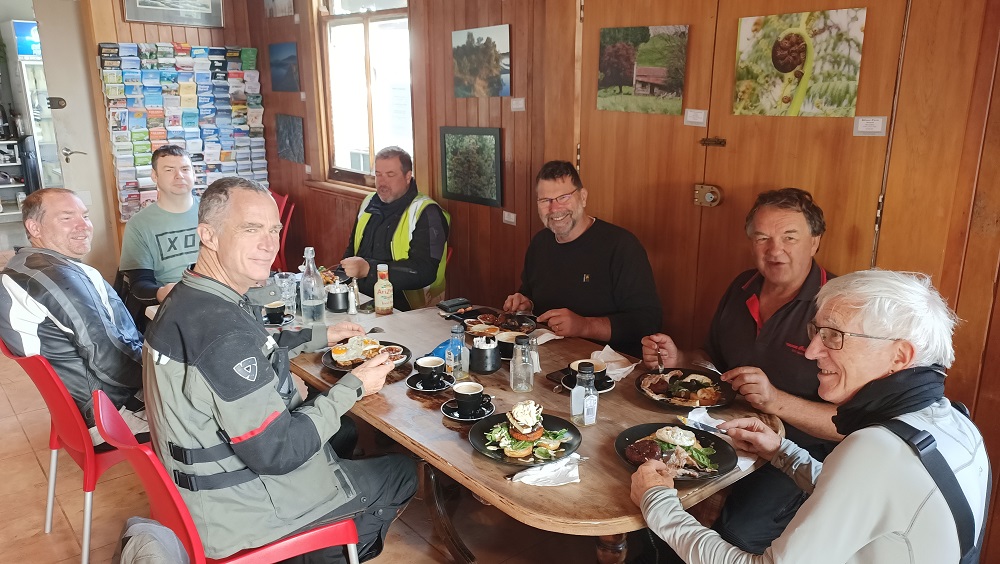 Do it again?
Hell yeah! See you in March 2023, if not before!